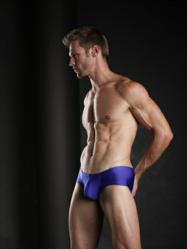 The redesigned website makes it easy to find all my underwear needs on one site.
Bradenton, FL (PRWEB) August 02, 2011
Mensuas Launches Redesigned Website for Mens Underwear and Swimwear. The newly redesigned Mensuas Web site is live today on the Internet. The new website features new products with multiple pictures and completely new navigational tools is now easy to find mens swimwear and underwear.
Mensuas is a premier multi-brand men's swimwear and underwear company. Mensuas sells current fashions from established designers, fashion houses, as well as emerging designers. Mensuas focuses in the importance of looking stylish, sporty, provocative and sexy but feeling comfortable in a quality product. Everything from underwear to swimwear is geared towards what's hot today and what's selling today. Shoppers are not going to find a typical beach guy swimwear at Mensuas, but they will find the most interesting styles available today.
Mensuas tried to make it easy for everybody to come to their online mens underwear and swimwear store and find whatever they needed in the best price and the most quality and the less time. New tools on the Mensuas website include the ability to sort by price, magnification of images and enhance one-page checkout.
Mensuas features: Amigaz, Bunng, California Muscle, Delio Dietz, Freemen, Good Devil, Intymen, Joe Snyder, Male Power, Marcuse, Mensuas, Mundo Unico, N2N Bodywear, Pistol Pete, Private Structure, Rufskin, Speedo, Timoteo & Uzzi.
Mensuas has been serving the swimwear market for over 12 years. Mensuas is located in Bradenton, FL, Phone (866-964-8765).
###