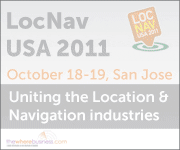 'I'm really excited to introduce this opportunity for young companies looking to break into the location space. It will bring a completely new and fresh dynamic to the conference' Naomi Hands, VP North America, TheWhereBusiness
(PRWEB) August 02, 2011
The Get Funded Show has been specifically designed to help innovators successfully enter the location industry. Alongside real investment opportunity, TheWhereBusiness have announced a call for entries for the show.
Applicants are now able to submit their proposal to a panel of judges and industry advisors who will shortlist the selection to the top ten innovative ideas or products focused in the geo-location space.
Held during North America's leading Location and Navigation event, LocNav USA 2011, the Get Funded Show will take prime position on the afternoon of day one. Comprised of not only two industry leading conferences, 8 interactive workshops and the Get Funded Show, LocNav USA is set to attract over 300 senior-level executives and industry trailblazers as well as VCs, angel investors and industry giants.
VP of North America for TheWhereBusiness, Naomi Hands commented "I'm really excited to introduce this opportunity for young companies looking to break into the location space. It will bring a completely new and fresh dynamic to the conference."
Not only will successful applicants have exposure as a leading location innovator, but through pre and post show publicity from TheWhereBusiness and supporting partners, the finalists of the show will get a ten minute pitch in front of the judging panel.
Judges this year include trailblazers and investors from Intel Capital, Nokia, Venrock, Khosla Ventutres, Nokia, BlueRun Ventures and Verizon Wireless.
Naomi also commented, "It's great to be working with such a strong panel of judges on this, and already we've had some really creative applications for the show. The more innovative the application, the better!"
To apply for the Get Funded Show, or find out more information, click here: http://www.thewherebusiness.com/location-and-navigation-usa/get-funded-and-workshops.shtml
Contact
Naomi Hands
VP North America
TheWhereBusiness
Tel: +44 (0) 207 375 7513
Toll Free: +1 800 814 3456 ext. 7513
naomi(at)thewherebusiness(dot)com
About TheWhereBusiness:
TheWhereBusiness publishes news and events for those involved in the navigation and location ecosystem. Through high-end B2B conferences, we connect people across the industry, provide market leading intelligence and enable companies to capitalise on emerging business opportunities in location-based services, navigation, geo-web, tracking and mobile advertising; basically, anything that involves location, context or maps! Through continuous independent research with hundreds of companies and dedicated journalists, our news portal keeps you one step ahead of an industry in flux, and our events provide key networking forums for the industry.
###