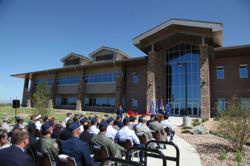 AFRC's goal is to improve current and future infrastructure with high-efficient and sustainable design principles.
Robins Air Force Base, GA (PRWEB) August 03, 2011
Air Force Reserve Command celebrated its newest green building with a ribbon-cutting ceremony here last month.
Lt. Gen. Charles E. Stenner Jr., commander of Air Force Reserve Command, officiated the ceremony for the new Air Reserve Personnel Center. The 80,000-square foot facility costs $17 million.
The personnel center staff is moving east about 10 miles from a 1950s era building to the new facility. Operations are scheduled to begin in the new center Aug. 1.
The new center will be a state-of-the-art facility to provide administrative support to more than 980,000 Air Force Reserve and Air National Guard personnel. The center tracks military careers from initial service entry to retirement. The center maintains records on assignments, promotions and separations.
"AFRC wanted to construct a model facility that was energy efficient to lower facility operating costs and to demonstrate our commitment to the environment," said Timothy Greene, who managed the building construction with the Army Corps of Engineers.
The new personnel center is the first large-scale green facility in Air Force Reserve Command.
"AFRC's goal is to improve current and future infrastructure with high-efficient and sustainable design principles," said Scott Hastings, special projects engineer at the command headquarters at Robins AFB, Ga. "By integrating energy-related, sustainable design features into new projects, AFRC will maximize the energy performance of each building."
The new green building incorporated guidelines in its construction features from the Leadership in Energy and Environmental Design, an internationally recognized green building certification system.
ARPC's green building is energy-efficient and made with sustainable material. The building has a sloped roof, which is created from reflective materials designed to reduce the heat island effect. The Energy Management Control System, inside the building, is designed to minimize energy costs and increase the system's reliability and maintainability. The open office areas have access to natural daylight, reducing the need for traditional light fixtures.
The facility's arid, high-desert landscape will increase water efficiency because it does not need a permanent irrigation system.
"In recent years, we have more than 50 facilities either constructed, under construction or in design that follow industry standards related to green features," Greene said.
All of AFRC's future building projects and major renovations will promote and enhance green, sustainable and energy-efficient facilities.
Construction will incorporate solar power, solar water heating, rainwater harvesting, xeriscaping, recycling, highly efficient heating and air conditioning systems, water-efficient plumbing fixtures, sophisticated lighting systems and permeable pavements.
###