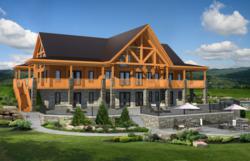 We share similar philosophies and both of our businesses have continued to grow these past few years, which in today's market is not an easy task
The Coves at Round Mountain, NC (PRWEB) August 02, 2011
The grand opening of the 6000 square foot, 1.4 million dollar structure marks the start of the partnership with The Coves and Timber Block– two companies that have spent the few years striving for excellence. Having two companies of this magnitude working together doubles the strength to deliver a product that is undeniable in the state of North Carolina. The Coves at Round Mountain has had nothing but success over the last few years, and Tim Ritch, Managing Partner at The Coves says their key to that has been to do what other communities have not – continue the funding and execution of the development plan. "The continued investment into our community allows us to gain market share in terms of the number clients who find The Coves. We are also able to provide the level of comfort for existing site owners to build their homes and relocate to The Coves. We have become an active, vibrant community."
The selection of Timber Block for the Lodge was an easy decision for The Coves. "Timber Block's design team did a fantastic job of designing the lodge for our community. The interpretation of our environment and community, was reflected in the log home inspired design and our Pisgah Mountain Lodge will become one of the focal points of our community," says Ritch. "Combine great design with all the added benefits that Timber Block provides through energy efficiency, ease of build and overall quality, the decision was easy to make."
While the grand opening is happening on August 13, attendees will also get a first hand look at the exclusive Cabin Collection created in cooperation with The Coves. Timber Block staff will be on hand to present the offering as well as show guests first hand the many custom options available in design or materials.
"Timber Block is honored to work closely with the team at The Coves at Round Mountain," says Craig Johnson, President of Timber Block USA. "We share similar philosophies and both of our businesses have continued to grow these past few years, which in today's market is not an easy task. We are proud to be a permanent part of The Coves and look forward to building many homes in the community for years to come."
The celebration of the grand opening of the Pisgah Mountain Lodge begins at 10 am Saturday, August 13. Experts from The Coves will provide group and private tours of The Coves, and Timber Block staff will also be on hand to conduct informative seminars, and answer all questions. Click here to RSVP.
About the Cloves:
The Coves at Round Mountain offers a broad array of amenities in the North Carolina Mountains. They have over 20 miles of improved hiking, biking and horseback riding trails. There are 2 community parks with the riverside pavilion and the waterfall park, along with a community demonstration vineyard. The community garden is currently in use by multiple residents growing seasonal fruits and vegetables. It includes an equestrian center and offers on-site boarding for residents with horses. The Coves Country Golf Course is an enjoyable mountain course, which is open year round. The Community Lodge will soon be open, which includes a fitness facility and pool. With 5 miles of frontage on the Johns River, residents enjoy fly fishing, tubing, kayaking and canoeing.
About Timber Block:
Timber Block's team of professionals offer a product unmatched in residential or commercial log home and timber construction, which provides clients with state of the art, environmentally responsible technology combined with cost-effective building methods. Delivering stock or custom products, the team at Timber Block works within partnerships, maximizing the aesthetic and investment, to realize the dream of each unique project. Timber Block provides custom or stock insulated log homes and wooden homes utilizing a revolutionary R-30 insulated log, which is a proprietary and patented product. More online at http://www.timberblock.com.
###