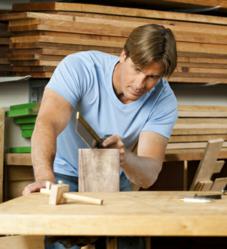 We'll be able to bring you some great new projects that are perfect for woodworkers of all levels and really push the envelope of design.
Parkersburg, WV (PRWEB) August 03, 2011
With a Daytime® Emmy Award nomination to its credit after only one season, Rough Cut – Woodworking with Tommy Mac returns to public television this fall with 13 brand-new projects. Woodcraft, the industry leader in supplying top quality woodworking products, educational opportunities and one-on-one guidance to woodworkers, will provide major funding for the show, which features projects suitable for all skill levels. Produced by WGBH Boston, Rough Cut will premiere nationally on Saturday, October 1, 2011 (check local listings or visit http://www.thomasjmacdonald.com/stationfinder).
"As part of Woodcraft's ongoing effort to bring quality information and instruction to woodworkers, we are pleased to again sponsor this excellent series that features host Tommy MacDonald's fine craftsmanship and practical knowledge in a format tailored for both new and experienced woodworkers," said Jeff Forbes, president of Woodcraft Supply, LLC. "The show's Daytime® Emmy Award nomination attests to the quality of how-to programming delivered by executive producer/director Laurie Donnelly, Tommy and their talented crew."
For a sneak peek at season two, log onto http://www.wgbh.org/roughcutseason2. "We're excited to have Woodcraft as a show sponsor again in season two," Tommy said. "With their support, we'll be able to bring you some great new projects that are perfect for woodworkers of all levels and really push the envelope of design."
In the second season, Tommy shares both traditional- and contemporary-style projects, ranging from a Greene and Greene inspired Dressing Mirror and a Laminated Coat Rack, to a Sand-Shaded Clock and Potting Station. Viewers will see a mix of woodworking techniques and processes, including finger joints, cloud lifts, drawer construction, sand shading, turning, and carving, along with "T-Mac tips." And Tommy continues to use both power and hand tools (his favorite).
To gain design inspiration for the projects, Tommy travels to some fascinating destinations, including the magnificent Gamble House in Pasadena, California, where he sees examples of the Arts and Crafts style of architects Charles and Henry Greene; Brookhaven, New York, where studio artist David Ebner is busy making his famous Scallion Coat Rack, using both lamination and turning techniques; and close to home in Boston, Massachusetts, to check out the new Art of the Americas wing at the Museum of Fine Art.
After returning from his road trips, Tommy heads back to the workshop, where he is joined by renowned woodworkers and guests, including familiar faces: North Bennet Street School graduate Eli Cleveland, Boston-based woodworker Al D'Attanasio, and Steve Brown of the North Bennet Street School.
Major funding for Rough Cut is provided by Woodcraft, and additional funding is provided by Bessey Tools, Easy Wood Tools, General International, Oneida Air Systems, Rikon Power Tools and Titebond Wood Glues.
In addition to Rough Cut, WGBH Boston produces several award-winning series such as Masterpiece, Antiques Roadshow, and Nova. American Public Television distributes the show.
DVDs & A New Book
Rough Cut viewers can learn more about the show, Tommy and related instructional materials at a comprehensive Web site, http://www.roughcutwoodworking.com. In addition to season one DVDs and plans already available, PBS Distribution has announced that the first four Rough Cut season two DVDs and plans will be released in November 2011. Additional DVDs and plans will be ready in January 2012 and in March 2012. On November 8 The Taunton Press will release Rough Cut – Woodworking with Tommy Mac, the companion book to season one. In it Tommy takes readers into his shop as he builds the 12 first season projects, showing how to create beautiful furniture such as a small wall-hung shelf and trestle table, while teaching key woodworking skills. Projects include drawings, a materials list, step-by-step photos, tips, techniques, and woodworking fundamentals. Woodcraft will also carry the new DVDs and book when they become available.
For more information about Woodcraft, please contact the store nearest you, visit http://www.woodcraft.com or call (800) 535-4482.
Photo © Anthony Tieuli
# # #