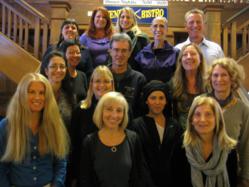 We provide coaching segments on how to evaluate peer-reviewed scientific articles, says Rick Dina. "It's important to define facts as opposed to exaggerated claims."
(PRWEB) August 02, 2011
Living Light Culinary Institute, a gourmet raw food culinary school attracting students from more than 50 countries around the world, has teamed up with Rick Dina, D.C. and Karin Dina, D.C. to offer a comprehensive series of classes on the science of raw food nutrition. Topics include raw vegan sources of protein, iron, calcium, vitamin B12, and essential fatty acids, as well as blood sugar regulation, pH balance, nutrient changes in cooked food, anti-inflammatory nutrition, weight management, anti-aging, longevity, and related topics. The series has grown from an initial offering of a single class in the fall of 2006, to a 15 day, five-part series with 130 hours of course content.
The "buzz" about the health benefits of raw foods is attracting a wide audience, including Hollywood stars Natalie Portman and Woody Harrelson, musicians David Bowie and Beyonce, and Apple CEO Steve Jobs. Many Living Light graduates have found employment as private chefs for celebrities, and at spas and health retreats. With increased awareness of the raw food diet, adding scientific nutritional information has become an important component in the school curriculum.
The Science of Raw Food Nutrition series is geared towards chefs, health educators, public speakers, recipe book authors, and even vegan home chefs who want to answer the perennial question "where do you get your protein?" Classes are designed for both the non-scientific person, and for those with a science or nutrition background who are interested in learning more about the specifics of raw food nutrition. The first class in the series is available to the general public with no prerequisites.
"We feel lucky to have the opportunity to watch the proverbial light bulbs go off over our students' heads as various pieces of the nutrition puzzle come together," says Rick Dina. "The courses have been tremendously well-received, and our students keep asking for more in-depth content."
With everyone from food guru Michael Pollan to New York Times columnist Mark Bittman touting the virtues of sustainability and examining the benefits of vegetarian and vegan diets, it is important to understand the scientific nutritional aspects of the increasingly popular raw food diet. The Science of Raw Food Nutrition series at Living Light Culinary Institute provides progressively complex information on a variety of subjects, including antioxidants and phytonutrients in raw plant foods, nutrient synergy, a comparison of various fasts and cleanses, the ecological impact of food choices, and menu planning for various health concerns like blood sugar issues, cholesterol management, autoimmune disorders, and digestive issues.
"We provide coaching segments on a variety of topics, including how to put together lectures and presentations, conduct nutrition research, and evaluate peer-reviewed scientific articles, says Dina. "It is important to learn how to define facts as opposed to exaggerated claims."
Dr. Rick Dina, D.C. has studied and practiced raw plant-based nutrition since 1987. He is a graduate of Life Chiropractic College, has taught at Bastyr University, and has been a staff member at Hippocrates Health Institute and True North Health Center, treating patients with high blood pressure, elevated cholesterol, diabetes, autoimmune, and other nutritionally related diseases.
Dr. Karin Dina, D.C. has studied and practiced raw food nutrition since 1990. A Magna Cum Laude graduate of the University of Colorado and Palmer College of Chiropractic West, and an honors student in naturopathic medicine at Bastyr University, her focus has been plant biology, advanced nutrition, and nutritional biochemistry. The Dinas maintained a chiropractic and nutritional counseling practice in San Raphael, California for five years before joining the staff at Living Light Culinary Institute.
Living Light Culinary Institute was founded in 1998 by Cherie Soria, author of The Raw Food Revolution Diet. She and her husband Dan Ladermann own four eco-friendly businesses on the Mendocino coast of northern California: Living Light Culinary Institute, Living Light Marketplace, Living Light Café, and Living Light Inn. The Living Light Chef Showcase: Hot Chefs, Cool Kitchen takes place every fourth weekend in August at Living Light Culinary Center in Fort Bragg, CA.
###