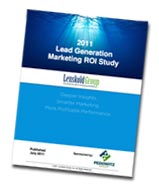 Atlanta, GA (PRWEB) August 03, 2011
The Pedowitz Group (TPG), the world's largest and most experienced Revenue Marketing agency, announces the availability of the 2011 Lenskold Group Lead Generation Marketing ROI Study. Download full report.
Lenskold Group conducted the base study with members of MarketingProfs as a representative sample of the marketing community to identify best practices among high performing marketing teams.
"In this, its 4th year, the study clearly identifies which metrics leading companies utilize, and how they measure results," stated Jim Lenskold, President, Lenskold Group. "Marketing Automation helps companies gain insight into those metrics, and we know from experience that this journey to Revenue Marketing begins with the people and processes required to effectively leverage that technology."
The study highlights four primary drivers for Revenue Marketing success and focuses on the science of marketing, not just the art:

Tightly integrated marketing automation and CRM
Marketing accountability for funnel management and conversion metrics deep in pipeline
Reporting on past results and forecasting future results
Variable compensation tied to revenue-oriented metrics
As a follow up to the study, Lenskold Group and Pedowitz will release the Revenue Marketing IndexTM or RMI TM later this month. The RMI is designed to reveal how world class Revenue Marketers® are using marketing automation with improved processes and skills to drive real revenue results. The RMI will leverage the survey findings and provide a baseline for organizations to compare how they rank against those with Revenue Marketing Centers of Excellence. To receive the RMI and the Study, register now.
The Revenue Marketing Journey is a four-stage process developed by The Pedowitz Group to help today's B2B marketer move efficiently and effectively to the Revenue Marketing stage in which marketing results become repeatable, predictable, and sustainable. The Lenskold Group survey provides the data to support each of the key stages of the Journey – Traditional, Lead Generation, Demand Generation, and Revenue Marketing. To learn more about each stage, view this brief presentation.
"Our goal in sponsoring this study was to prove, definitively, whether companies who are committed to measuring marketing's impact on revenue out-perform those who do not," said Jeff Pedowitz, President and CEO, The Pedowitz Group. "These results speak for themselves. Those who have not yet started on this journey to Revenue Marketing need to understand the benefits in terms of achieving predictable growth through marketing contributions."
About Lenskold Group
Lenskold Group offers one of the most comprehensive and innovative approaches to applying marketing ROI techniques and tools to plan, measure and optimize marketing strategies toward maximum profitability. Lenskold Group combines financial discipline and a unique blend of measurement methodologies to deliver practical solutions that establish accountability and credibility for marketing organizations. The company has delivered high-quality consulting and marketing services to generate profitable growth for a broad range of client companies since 1997. The senior management team of accomplished professionals provides cohesive and comprehensive solutions in the area of marketing ROI processes, measurements and analytics. Company President and Founder, Jim Lenskold, is author of the award-winning book, Marketing ROI, The Path to Campaign, Customer and Corporate Profitability. To learn more about Lenskold Group and its innovative services, visit the Lenskold Group website at http://www.lenskold.com or call +1.732.223.8886
About The Pedowitz Group – Connecting Marketing to Revenue™
The Pedowitz Group (TPG) is the world's largest full-service revenue marketing agency and recently earned the #12 spot on the Atlanta Business Chronicle's Top 50 List of Fastest Growing Private Companies. Through a focus on marketing and sales automation solutions, TPG helps global clients execute demand generation strategies that generate repeatable, predictable and sustainable top-line revenue results. Services include strategy, system selection, implementation, creative and outsourced demand generation for such industry leaders as Comcast, Deutsche Bank and Palace Sports and Entertainment. For more information on how TPG helps clients become successful Revenue Marketers®, visit http://www.pedowitzgroup.com or revenuemarketer.com.
# # #