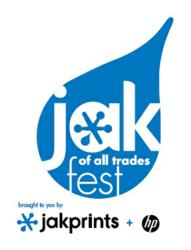 Cleveland, OH (PRWEB) August 03, 2011
The heart of Cleveland beats with the passion of visionary artists and the energy of audacious entrepreneurs. Very few know this fervent beating better than printing company Jakprints, which has grown from a two-man screen printing shop to a 125-person operation serving clients throughout the world.
Who else, then, to throw a festival that brings together visual art, food, fashion, music, technology and sustainability? Jakprints and their employees will be celebrating these things and more with the Jak of all Trades Fest on Saturday, September 3, 2011 (presented in partnership with HP.)
The event is open to the public and admission is free, though an online RSVP by Sunday, August 28th is necessary to attend. To RSVP visit http://www.jakprints.com/joat. Jak of all Trades Fest will take place at 3134 Perkins, in Cleveland, Ohio right behind Jakprints' MidTown headquarters.
From noon to 7 p.m, this all-day fest will feature live bands, DJs, a skate park featuring an open skateboarding street course, mobile food trucks, fashion show, a complimentary sponsor beer garden, and tours of Jakprints' cutting-edge and environmentally friendly printing facilities. Jakprints' designers and clients will share their work with a gallery exhibition and a fashion show supported by local indie boutiques; meanwhile, employee and Cleveland gallery owner William Rupnik will head a team of artists to assist in a live mural installation.
Family-friendly activities will be featured at Jak of all Trades Fest, such as games, crafts, a kids' chalk area, a Big Fun squirt gun zone, and special skateboarding hours for those 14 and under. Although free parking will be provided, Jakprints encourages bicyclists to participate in a bike ride leaving Ohio City's Joy Machines Bike Shop at 12:30 p.m. At the Fest, they can either take part in bike polo organized by Pedal Republic, or park their rides at a complimentary bike valet.
Further proof of Jakprints' commitment to a better Cleveland can be found in the Jak of all Trades charity raffle. Participants can win an HP TouchPad; tickets to concerts and professional sporting events; locally-oriented gift cards and baskets will also be raffled away. 100% of the raffle proceeds will go to help MidTown Cleveland Incorporated and Community Greenhouse Partners.
Jakprints feels that MidTown, home to Jakprints and over 800 businesses and institutions, is an important component in Cleveland's economic and cultural landscape. Jakprints believes in the future, so raffle proceeds will also go to Community Greenhouse Partners, which plans to build a greenhouse that will serve an economically distressed Cleveland neighborhood through food sales and education.
Jak Of All Trades is brought to you by a partnership with HP and by a media sponsorship with Scene Magazine.
For more information on Jak of all Trades Fest, contact Fest Coordinator, Angela Hetrick at 216-773-0210 or events(at)jakprints(dot)com.
About Jakprints:
Jakprints, Inc. is a creatively driven, full-service printing company specializing in offset printing, apparel printing, and sticker printing. By investing in state-of-the-art equipment, ecologically sustainable practices and an unfaltering commitment to customer service, Jakprints serves more than 90,000 customers worldwide—musicians, artists, and designers; corporations and individuals—with a wide range of projects customized to bring the best attention to your brand, company, or event. More information about Jakprints is available at http://www.jakprints.com.
About HP (Hewlett Packard):
HP creates new possibilities for technology to have a meaningful impact on people, businesses, governments, and society. The world's largest technology company, HP brings together a portfolio that spans printing, personal computing, software, services, and IT infrastructure at the convergence of the cloud and connectivity, creating seamless, secure, context-aware experiences for a connected world. More information about HP (NYSE: HPQ) is available at http://www.hp.com.
###