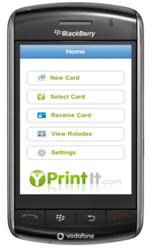 With IPhone and Android versions of the free Yprintit app already available on the IPhone App Store and Android Market, interest has been growing on the user side for a BlackBerry version of this truly effective business and social networking tool
Astoria, New York (PRWEB) August 03, 2011
Makers of the QR Code Electronic Business Card App, Yprintit, have announced that a BlackBerry version of the business and social networking application which is currently available as an IPhone App and an Android App will be released in 2011. Yprintit is a free QR code application that allows users to create and share digital business cards (QR Cards) based on QR Codes. The application facilitates business and social networking, and was developed as a green technology app to reduce dependency on paper business cards and support the conservation of trees and other environmental resources used for the production of business cards. A truly relevant business app, Yprintit is a modern business tool that allows users to create an unlimited number of free QR Code business card s which can be shared with other users of the app across mobile platforms and other devices supporting QR code reader technology.
Most Smartphones carry a QR Code scanner that can quickly and easily read the information contained in a QR Code (such as text, phone numbers, addresses, or website URLs) by taking a photo of it. Yprintit uses QR Code technology to transfer electronic business cards between devices which support QR Code Readers and have the Yprintit app installed. Beyond electronic business cards, the Yprintit app also allows users to enjoy multimedia-based social networking. With Yprintit, users receive instant notifications when a contact changes any detail on their card. Also, users can attach multimedia files to their cards, and share these when they transfer a card to a contact. These additional features create room for meaningful social interaction between users.
The addition of a YPrintit client for BlackBerry devices is a welcome development, and will allow BlackBerry users to begin to enjoy the multi-faceted benefits of the free Yprintit application, while increasing awareness of the underlying green causes behind the app, as well as contributing to the conservation of the Earth's forests.
The increasing awareness of the destructive effects of most current technology on the environment has largely inspired the race for more environmentally-friendly technology options in all spheres of human endeavor, including business. This so called "Green Technology" aims to replace most current technology with more eco-friendly alternatives, and the work place has not been left out. We are now seeing more energy-saving office equipment and appliances, recycled paper, reusable components and business software. It is safe to assume that in the not-so-distant future our work places will be virtually 100% green. The Yprintit app shares this vision, and was created to contribute to the realization of that goal.
As a green business technology, Yprintit aims to reduce the dependency of businesses on paper business cards, whose production consumes forest resources, most notably trees, and by so doing, harms the environment. Using an electronic business card system has many advantages, one of which is the fact that it will help save the environment by strategically eliminating the need for paper business cards.
Other advantages to an electronic business card system include cost savings, since substantial amounts of money which would have been invested in the annual production of business cards will now be made available for other pursuits. Another advantage is flexibility, since with electronic business cards companies can change information on cards or even wholly redesign business cards with incurring additional logistical and financial costs.
The BlackBerry version of the Yprintit app will have the same features that currently exist in the IPhone and Android versions of Yprintit, but will simply be redesigned to optimize the features available on BlackBerry devices. Users of the BlackBerry version of the app will have access to the same complete functionality available on other versions, but will now be able to exchange QR code electronic business cards with other BlackBerry users, as well as with IPhone and Android users, allowing for a complete convergence of the leading Smartphone device platforms for the app, and a significant expansion of the Yprintit online community.
Quoting a company spokesperson when asked about the new app;
"With IPhone and Android versions of the free Yprintit app already available on the IPhone App Store and Android Market, interest has been growing on the user side for a BlackBerry version of this truly effective business and social networking tool. We are happy to announce that a BlackBerry version of the free Yprintit QR Code business card application is in the works, and will be released in 2011. The new version of the app will allow our growing fan base of BlackBerry Smartphone users to enjoy the app on their devices and truly integrate with the rest of the Yprintit community."
For more information about the Yprintit app, the iPhone and Android versions, or the coming BlackBerry version, please send an email to support(at)yprintit(dot)com. Updated information about the Yprintit app is also available from the product site at www (dot) Yprintit (dot) com.
About Yprintit.com
YPrintit.com is a green technology firm. Our latest offering is a new free mobile application and social networking platform designed to eliminate the negatives associated with printed paper business cards while maintaining the positive visual impact and established face to face practice of exchanging cards. Currently available for iPhone and Android, its version for Blackberry is scheduled for release in early 2011. The company's roots lie in a goal to promote green technology. As an application and networking platform, YPrintit allows you to create unlimited numbers of virtual business cards and share them with others from phone to phone through the use of QR Codes. Changes you make to your card are reflected in what your contacts see instantly.
###