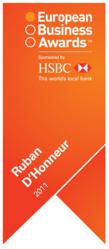 For M-Files to receive a Ruban d'Honneur from the European Business Awards is a real mark of distinction, and a testament to the determination and passion that drives our company
Dallas, TX and Tampere, Finland (PRWEB) August 03, 2011
M-Files Corporation, the developer of M-Files easy document management software and the cloud-based document management service M-Files Cloud Vault, today announced the company has been selected as one of the ten Ruban d'Honneur recipients for The Infosys Business of the Year Award with turnover of up to €25 million. Receiving a Ruban d'Honneur is an impressive achievement and celebrates businesses that demonstrate exceptional performance within their sector.
The European Business Awards, sponsored by HSBC, has identified some of Europe's brightest businesses based on their ability to demonstrate the three core principles at the heart of the Awards program. M-Files was selected as one of only two companies with operations in Finland to be given a Ruban d'Honneur, which will be awarded at a ceremony in Barcelona on November 22nd. Judges deliberate to select which individuals and businesses are awarded the Ruban d'Honneur, and it is from the Ruban d'Honneur recipients that the final winner in each category is decided. Additional information on the award can be found at the European Business Awards web site.
"For M-Files to receive a Ruban d'Honneur from the European Business Awards is a real mark of distinction, and a testament to the determination and passion that drives our company," said Antti Nivala, CEO of M-Files Corporation. "I'm extremely proud of the commitment of our internal team and global partner network, without their relentless pursuit of quality and customer satisfaction this recognition would not be possible."
All Ruban d'Honneur recipients will now prepare to appear before a third judging panel of highly regarded academics, heads of state, industrialists, entrepreneurs and media commentators drawn from across the 28 member European States. The interviews will take place in September in London.
"Receiving a Ruban d'Honneur is a major success. It promotes the fact that you're up there with the best businesses across the European community," said Adrian Tripp, Chief Executive of the European Business Awards. "This year has been tough on the judging panel as we're seeing businesses emerge from economic difficulties and come out fighting and delivering some great entries. Together with HSBC we wish M-Files every success in this next and final round of the European Business Awards."
"While only a few may be crowned European Business Award winners, all are a reminder of the immense talent creating prosperity across Europe," said John Casey, HSBC Head of Commercial Banking, Continental Europe. "We connect businesses with opportunities internationally every day, and are pleased to see so many of these businesses pursuing global growth opportunities with a forward-thinking approach."
About M-Files Inc.
M-Files Inc. develops M-Files easy-to-use, professional document management software and the cloud-based document management service M-Files Cloud Vault that runs on the Windows Azure platform. M-Files and M-Files Cloud Vault enable companies and organizations of all sizes to make dramatic gains in efficiency and productivity by improving the way they organize and manage their business documents, information and processes. More than 15,000 customers in over 80 countries worldwide use M-Files to manage their documents. M-Files is available in 21 languages and is in use at customers such as AstraZeneca, BSA LifeStructures, EADS, FinnComm Airlines and Parker Hannifin. For more information, visit our Web site at http://www.m-files.com, the M-Files blog, and follow us on Facebook and Twitter.
###