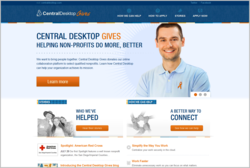 We're excited to have the opportunity to give back to the community through Central Desktop Gives.
Pasadena, Calif. (PRWEB) August 03, 2011
Central Desktop, provider of the industry-leading cloud-based social collaboration platform for businesses, today launched its new program for non-profits, Central Desktop Gives. This newly created program helps non-profits communicate and collaborate better by donating Central Desktop's online collaboration solution to select qualified applicants.
Non-profits often struggle with not having the resources they need to effectively work together to accomplish their organizations' missions. Central Desktop Gives' goal is to help non-profits connect volunteers, manage projects, centralize communication and organize events. Qualified nonprofits are invited to apply for the program. Applications are accepted on a quarterly basis and will be evaluated by the Central Desktop Gives selection committee, which will choose one winner every quarter. The deadline to submit an application for this quarter is September 30, 2011.
As part of Central Desktop Gives, the company is also launching an employee volunteer program that grants all Central Desktop employees eight hours of paid volunteer time per year. Additionally, Central Desktop is awarding a $500 donation every quarter to a nonprofit of an employee's choice.
"We're excited to have the opportunity to give back to the community through Central Desktop Gives," said Isaac Garcia, CEO and co-founder of Central Desktop. "We recognize the benefits our collaboration solution can have for non-profit organizations, and we want to do our part to help. Our goal is to help as many deserving organizations as possible through our contributions, product donations and employee volunteer program."
Central Desktop Gives' first solution donation recipient is the Society of Women Engineers – Santa Clara Valley Section (SWE-SCV), an organization dedicated to providing encouragement and support to current, retired and future women engineers. The Society of Women Engineers offers professional development programs and leadership opportunities that promote the success of women in the engineering workforce.
"As volunteers, members of the SWE-SCV executive council must balance full-time employment commitments with their dedication to advancing SWE's mission," said Charisma Canlas, vice president of member services and social technologies strategist. "Technology solutions like Central Desktop improve communication within SWE's geographically dispersed organization by centralizing our activities, discussions and documents. We use Central Desktop to improve organizational efficiency, track progress of ongoing initiatives and maintain an archive of collateral so nothing is ever lost."
For more information about Central Desktop Gives, visit http://www.cdgives.org/.
About Central Desktop
Central Desktop delivers a cloud-based social collaboration platform that revolutionizes how people connect and share information to drive profitable business results. Businesses of all sizes use Central Desktop's complete online collaboration solution to manage projects and documents in the cloud with colleagues, customers and partners. Key Central Desktop customers include the Humane Society of the United States, CBS, U.S. Department of Health & Human Services, Netflix, Gymboree, Workday and Harvard University. Founded in 2005, Central Desktop is a privately-held company with headquarters in Pasadena, California. For more information about the company, visit http://www.centraldesktop.com.
# # #