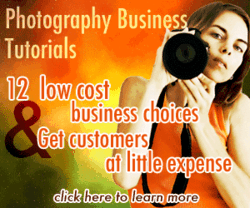 highly creative photographers have been going out of business or even bankrupt simply because they didn't know the secrets to getting customers
(PRWEB) August 08, 2011
Sometimes, even the most skillful of photographers fail to run a successful photography business. Roy Barker knows this and after drawing on his own lengthy experience, has compiled his valuable knowledge at his new website for budding and struggling photography business owners to access. Roy has kindly provided the information in this release.
When he first started his photography business, Roy discovered that many highly creative photographers have been going out of business or even bankrupt simply because they didn't know the secrets to getting customers and keeping them. Finding and attracting customers is one of Roy's most noted areas of expertise he now wants to share.
Roy Barker believes there are only three things that any photographer needs to have to operate a successful photography business: a mastery of the craft, basic entrepreneurial skills and a flawless strategy for finding and keeping paying customers.
From early years, Roy Barker has been an active photography advocate, providing tips and techniques to improve passionate photographer's skills - from choosing the right equipment down to the right photography courses. He continuously shares his expertise on starting, running and maintaining a photography business in a regular newsletter in his website, http://www.profitable-photography.com where anyone can sign up for free.
He is most well known for the well established eBook he published in 2005 entitled, "Income from Photography". It's a comprehensive, step-by-step guide to establishing a photography business. A definite must-have for a photography business newbie.
More recently he launched a new step-by-step guide for photographers who perhaps already have the skills and the basic business knowledge but lack the needed strategies and experience to get customers quickly. This can be found at his website called Start a Photography Business. Its entire focus is about getting photography customers. You can also sign up for a newsletter, which provides more information and free advice that is intended to help jump-start a photography business.
It is a common misconception of amateur photographers that starting a business needs a lot of money - Roy believes otherwise. "You don't have to purchase expensive equipment, lease a studio or get a loan. If you already know how to take good pictures, acquiring paying customers quickly can be achieved on a very, very low budget and in some cases, in as little as two weeks!" he said."
Photographers on a budget can learn more about getting customers, without having to spend a fortune, through Roy's new release, "Photography Business Quick Steps" that can also be found on his website.
Roy Barker has been providing tips, techniques and marketing strategies for photography businesses since 2005 and you can learn more about him and about photography business by visiting his website or signing up for his free newsletters at http://www.start-a-photography-business.com.
###