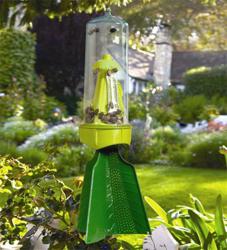 Stink Bugs are now in 33 states and have no natural predators.
Madison, VA (PRWEB) August 08, 2011
They seem to be everywhere. According to the Rescue!® pest control company, stink bugs are an agricultural pest and a home-invading nuisance. The annoying, shield-shaped brown bugs hitched a ride to the US in cargo shipments from Asia in the late 90s, and now – thanks to their proclivity for procreating four times a year and the absence of natural predators – they've spread to 33 states.
As the temperatures drop, they creep indoors – dusty brown insects about the size of a thumbnail, shaped like tiny shields. They're stink bugs, and the good news is that they don't bite, sting, or damage your home. The bad news is that they (along with all their relatives) want to spend the winter inside, like it or not.
Even worse, they stink.
While it's possible to grab up the occasional ant or spider with a paper towel or napkin, crushing a stink bug in such a way releases its primary defense mechanism – a liquid toxin with an offensive smell - a powerful odor that will attact even more of these menacing insects. In fact, just chasing them can have the same result.
Stink bugs reproduce 4 times a year. Each time a stink bug reproduces, it lays between 20-30 eggs on tree and other plant leaves. With no natural predators in the United States, multiple reproductive cycles, fast development and an ability to travel easily (hitching rides on buses and in construction materials), the numbers of stink bugs have exploded, and they're spreading fast across the country.
Part of what makes stink bugs so difficult to control is the fact that they are resistant to many types of pesticides. If stink bugs are found on crops, shake them off into a bucket of soapy water – the soapy water keeps them from flying away. Stink bugs in the house? Vacuuming them up is the best way to vanquish the little beasts, but be sure to use a vacuum with a bag that can be removed, sealed up and discarded when done. Flushing them down the toilet also works.
The best way to get rid of stink bugs from a home is keep them from getting in, so make sure the house is properly sealed. Before the nights start to get cold in late fall, check the outside of the house carefully for cracks or holes the bugs can use to gain access. Put screens on all windows and doors that don't already have them. For those that do, be sure they don't have any holes. Also, don't leave any unnecessary lights on, as stink bugs, like other flying insects, are attracted to light.
And then there's the RESCUE Stink Bug Trap: Made in the USA, the RESCUE! ® Stink Bug Trap is designed to work outdoors, capturing stink bugs before they ruin the garden or get in the home. The reusable trap comes with two, one-week supplies of a pheromone attractant that lures stink bugs in while remaining odor-free to people. Refills are available so a stink bug-free environment can be maintained all season long. The traps are available now for pre-order at PlowandHearth.com.
About Plow & Hearth
Plow & Hearth began as a small retail store in Madison, Virginia in 1980 and has grown to become a respected national catalog, retail and Internet company with more than 5 million customers. For over 30 years, the company has been a trusted source of unique, enduring products for the hearth, home, yard and garden, helping customers create an environment that is comfortable and welcoming, warm and personal. As part of their product development initiative, Plow & Hearth works with artisans and manufacturers around the world to develop innovative products created from uncommon materials and crafted by hand. Special consideration is given to those products made with environmentally friendly materials as well as products that will encourage customers to be more environmentally responsible, such as composting products and energy savers. Every item they sell is backed by a 100% satisfaction guarantee. The Plow & Hearth Family of Brands also includes quality toys from HearthSong® and Magic Cabin®, weather instruments from Wind & Weather®, innovative solutions from Problem Solvers® and unique home and garden décor from WinterthurStore®.
###