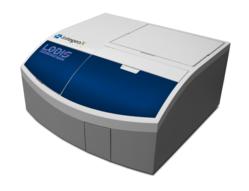 Madison, WI & Pleasanton, CA (PRWEB) August 03, 2011
IntegenX Inc. and Promega Corporation today announced that commercial deliveries of RapidHIT™ 200 Human Identification Systems will include Promega's nucleic acid purification and short tandem repeat (STR) amplification reagents. Promega's established STR chemistry will enable users of the automated, self-contained RapidHIT System to produce DNA profiles for human identification from mouth swabs and other human samples in less than two hours.
Promega's purification and STR reagents will be packaged with the RapidHIT System's disposable cartridges, which will automate all DNA sample processing steps required to generate DNA profiles, including cell lysis, DNA purification, STR amplification, separation and detection of amplified products, and data analysis. The single-use cartridges eliminate the need for user intervention during sample processing, greatly simplifying the process of human DNA profile production and eliminating the risk of sample carryover. By integrating Promega's purification and STR reagents, RapidHIT Systems can produce DNA profiles compatible with local, national, and international database systems, including the U.S. National DNA Index System (NDIS), the U.K. National DNA Database (NDNAD), and Local DNA Index System (LODIS) systems used by local law enforcement agencies.
"The RapidHIT Human Identification System represents a highly automated and specialized integration of our STR amplification chemistry", said Bill Linton, Chairman and Chief Executive Officer of Promega Corporation. "The supply agreement with IntegenX gives law enforcement agencies and other organizations the choice to adopt powerful DNA-based human identification technology without adding the specialized infrastructure that's usually required for a DNA lab," added Mr. Linton.
"Promega has been a great partner that we have worked with to optimize the use of their STR chemistry in our RapidHIT 200 system," said Stevan Jovanovich, President and Chief Executive Officer of IntegenX Inc. "The combination of IntegenX's technology and Promega's chemistry will help make the RapidHIT 200 the platform of choice for rapid human DNA identification."
IntegenX will commence commercial shipments of the RapidHIT 200 Human Identification System in early 2012. A limited number of pre-production RapidHIT systems are presently available to Early Access Program partners
About IntegenX
IntegenX Inc. (IXI), headquartered in Pleasanton, CA, is a privately-held company that designs, manufactures, and markets solutions for DNA and RNA sample preparation laboratory workflows. IntegenX's products eliminate the most acute pain points affecting researchers, laboratory workers and field based personnel. IntegenX's microfluidics technology platforms integrate advanced fluidics and robotic capabilities to prepare samples for DNA and RNA sequencing and to produce sample-to-answer performance for DNA-based forensics and human identity (HID) testing, next generation sequencing, biodefense, and molecular diagnostics applications. For more information, please visit http://www.integenx.com.
About Promega
Promega Corporation has provided products for DNA-based human identification for over 20 years. Promega Corporation is a leader in providing innovative solutions and technical support to the life sciences industry. The company's 2,000 products enable scientists worldwide to advance their knowledge in genomics, proteomics, cellular analysis, molecular diagnostics and human identification. Founded in 1978, the company is headquartered in Madison, WI, USA with branches in 15 countries and over 50 global distributors. For more information about Promega, visit http://www.promega.com.
# # #