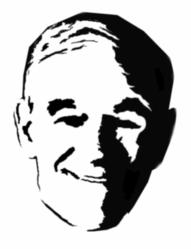 Using the CampRoots platform, a candidate can generate significant and rapid traffic on their Facebook pages.
Virginia Beach, VA (PRWEB) August 05, 2011
EndlessRoots has launched a Ron Paul 2012 application on Facebook using their new CampRoots platform. The app creates a social community that will provide Ron Paul with more fans on Facebook, gather support from all demographics, and help spread his message around the web. Through its unique interface, the application allows users to easily connect, organize, watch video, and donate to Ron Paul. It also includes a video game called "End the Fed", in which you play as Ron Paul and use the gold standard to fight against inflation-spreading zombie Ben Bernanke clones. The application currently has 18,700 active monthly users and has quickly become the #1 Ron Paul application on Facebook.
Regardless of political persuasion, politics and social media are a natural fit. Using the CampRoots platform, a candidate can generate significant and rapid traffic on their Facebook pages. It leverages all of the communication channels Facebook offers, and on a small budget, can still generate a lot of traffic. The best example of social media campaigning has been President Obama. He has a Facebook page with 22 million fans that has a Facebook application called "Are You In?". Having the backing of millions of fans, that application has 28,000 monthly active users. The Ron Paul application is an independent application, not supported by or affiliated with Ron Paul's Facebook page, or any other outside traffic source. Due to the engaging functions and user-friendly interface, it is close on the heels of Obama's application.
President Obama has used social media effectively in his campaigning, and has set a precedent for the effectiveness of social media. He has proven that social media grass roots campaigning matters. It had a significant impact on the 2008 elections, and will certainly play a large roll in 2012. By creating an application through the CampRoots Platform, any political candidate can increase the visibility of their important message. Every application is hands on, and completely customized to fit the needs of the campaign. Any questions or information on pricing can be asked at http://www.camproots.com.
CampRoots is grass roots campaigning. The Ron Paul 2012 application will continue to grow, and will get his supporters engaged, and excited about his message. To reach this application visit http://www.ronvolution.com.
# # #