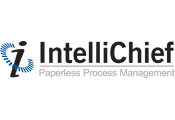 Offering IntelliChief customers full OCR capabilities enables them to accelerate document process efficiencies by streamlining document indexing and workflow routing
Mansfield, MA (PRWEB) August 04, 2011
IntelliChief LLC, the leading provider of document management and imaging solutions for the IBM i (System i, iSeries, AS/400), today announced they have incorporated IBM's newest OCR product into the IntelliChief document management suite of products.
Based on an Independent Software Vendor relationship with IBM Corporation, the IntelliChief Capture Enterprise product will feature OCR technologies, now allowing customers to automate the recognition and handling of data from documents in order to eliminate manual data entry and labor-intensive document preparation. "Offering IntelliChief customers full OCR capabilities enables them to accelerate document process efficiencies by streamlining document indexing and workflow routing," said Michael R. Rooney, IntelliChief VP of Sales and Marketing.
IntelliChief Capture Enterprise will extract machine print, handprint, checkbox and bar code data with OCR, allowing for the reduction of manual data entry. Its innovative Dynamic Natural Analysis technology enables IntelliChief Capture Enterprise to locate data on structured, semi-structured and unstructured forms. As a flexible data capture solution, IntelliChief Capture Enterprise will scan, classify, recognize, validate, verify and export data and document images quickly, accurately and cost effectively.
Many organizations use IntelliChief Capture Enterprise to streamline the process by using recognition to identify indexes on the document and apply them automatically. IntelliChief Capture Enterprise automates the identification of documents, an important aspect of indexing. Furthermore, it provides users with advanced reporting, real time monitoring and other management tools. As a complete solution for document capture and forms processing, IntelliChief Capture Enterprise increases efficiency, accelerates turnaround time and lowers the cost of document processing.
About IntelliChief
IntelliChief, is the leading provider of Paperless Process Management (PPM) solutions for the IBM i (System i, iSeries, AS/400) Enterprise. With decades of expertise in the market and seamless integration with leading ERP software vendors, IntelliChief takes companies of all sizes paperless with a typical ROI of less than one year. Users can create, capture, manage, archive, retrieve, and distribute mission-critical documents directly from their familiar ERP screens, eliminating the need for filing cabinets, storage facilities, fax machines, copiers, and paper files.
###