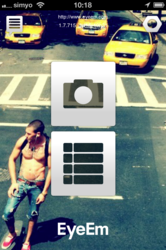 Berlin, Germany (PRWEB) August 04, 2011
EyeEm, a smartphone camera and photo sharing application that allows users to share and discover new images from around the world launches today in the iOS App Store and Android Marketplace. In addition to offering a suite of simple to use real-time image filters, the free to download app constantly monitors its users' tastes, using the data to recommend albums of similar photos of friends and like-minded people around the world. In line with the mantra that 'a picture is worth a thousand words', EyeEm aims to make images the definitive status update, as well as connect image lovers through a shared medium that crosses all language barriers.
In a market landscape dominated by photo sharing applications with only basic sharing and discovery functions, EyeEm stands out by automatically categorising images using 'vibes' – a smarter photo album that pulls images into topical photo streams – enabling users to discover places, topics and events, customising their photo feed based on interests.
The project's concept originated after company Co-Founder, Managing Director and photographer Florian Meissner's misfortune of having his digital SLR camera stolen on a subway in New York City. "I managed to pick up a used iPhone from a friend as a replacement and discovered a whole community of passionate people on Twitter and Flickr who enjoyed sharing their daily phone shots," explained Meissner. "Inspired by this kind of mutual appreciation, the ambition behind EyeEm is to connect people beyond their existing social networks."
Following a successful beta period with over 5,000 users from 79 different countries, EyeEm formally rolls out today with ambitions to more than simply replace the default camera application in smartphones. With a carefully designed user interface that makes capturing, filtering, location tagging and sharing a seamless process, photos can be instantly uploaded through existing social media networks such as Facebook and Twitter or in private photo conversations. The unique 'vibes' platform takes sharing to a new level, aligning photos with similar content to be discovered and enjoyed by the global EyeEm user base.
EyeEm incorporated in February 2011 and has raised seed funding from Passion Capital, Wellington Partners and Christophe Maire, who acts as the company's Executive Chairman. Passion Capital Partner Stefan Glaenzer said, "With a remarkable eye for user experience, the EyeEm founders have developed an exciting topical social channel – through photo sharing. We are thrilled to be working with the team." Wellington Partner Daniel Waterhouse added, "The EyeEm team have an exceptional understanding of the power of building conversation and discovery around the sharing of images. We are delighted to be working with them at the cross-section of social, mobile and local applications."
Joining Florian Meissner, the founding team includes joint MD Lorenz Aschoff, CTO Ramzi Rizk, Creative Director Gen Sadakane, lead iOS developer Wojtek Sczygiol and front-end developer Guillaume Cambon. The company is expanding and on the lookout for talented iOS and Android developers, support for the community team as well as a graph analysis expert.
EyeEm is available now for free download from the iOS App Store and Android Marketplace.
About EyeEm
Incorporated in February 2011 with its HQ in Berlin, Germany, EyeEm is a smart photo-sharing application for smartphones that constantly learns about user tastes, and recommends albums of similar photos from friends and like-minded people around the world. EyeEm automatically categorizes images using 'vibes' – a smarter photo album that pulls similar images into topical photo streams – enabling users to discover places, topics and events, customising their photo feed based on interests.
EyeEm has received an undisclosed amount of seed funding from Passion Capital and Pan-European Venture Capital fund Wellington Partners. For more information: http://www.eyeem.com/
About Passion Capital
Passion Capital was established in March 2011 by Stefan Glaenzer, Eileen Burbidge and Robert Dighero with the aim of becoming the premier early stage digital media and technology investment firm in the UK. The partners have more than 50 years' collective experience in entrepreneurial, founding and executive operational roles in technology firms. For more information: http://passioncapital.com
About Wellington Partners
Wellington Partners is one of the most successful pan-European venture capital firms. With some € 800 million under management and offices in London, Munich, Palo Alto and Zurich, the firm invests into companies throughout Europe that have the potential to become global leaders, in the areas of Digital Media, Cleantech, Electronics, Software and Life Sciences.
Since 1998, Wellington Partners has invested in more than 100 European companies, including now publicly traded Actelion and XING and privately held companies like Adconion, Alando (acquired by eBay), Ciao (acquired by Microsoft), Livebookings, Qype, and Spotify. For more information please visit http://www.wellington-partners.com.
Media contacts
Alice Regester (alice(at)33seconds(dot)co)
Luke Geoghegan (luke(at)33seconds(dot)co)
###