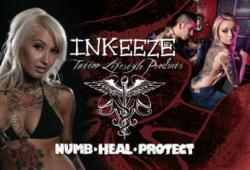 INK-EEZE introduces the first ever tattoo daily moisturizer to help keep tattoos from fading.
Newbury Park, CA (PRWEB) August 04, 2011
INK-EEZE, the pioneering brand behind the INK-EEZE Numbing Cream for tattoo pain relief, launched a full line of tattoo aftercare products, including the first ever Tattoo Daily Moisturizer.
Sean Hoy, company founder, says "I wanted to really design a line of products that listened to what the tattoo artists were wanting to have in tattoo care products as, collectively, they've learned what works and what doesn't." Hoy spent several years working with skin care specialists and different lab formulations to come up with the line. "I wasn't finished until each tattoo care product was not only acceptable to many of the top tattoo artists that we work with, but it was going to be a product they wanted to use, and that they would want their clients to use."
The new tattoo care line is vegan, not tested on animals, and made in the USA. It includes:

The INK-EEZE brand began with a topical tattoo numbing cream that has quietly become a respected product amongst tattoo artists for their client's tattoo pain relief. It utilizes the strongest combination of numbing agents on the market. Hoy says, "Artists had been complaining that other available numbing products were not originally designed for the tattoo market, so they had reactions with the skin that made the tattooing process more difficult. I wanted to find a solution to that, and thus the brand was born."
As tattoo artists began to use the tattoo numbing cream, they also requested a more fast-acting tattoo numbing spray that could be used during the procedure to continue the numbing process, and Hoy developed the INK-EEZE Tattoo Numbing Spray.
The INK-EEZE line can be purchase on the INK-EEZE website at http://www.inkeeze.com, or at a tattoo shop near you. Tattoo shops interested in carrying the INK-EEZE line can contact info(at)inkeeze(dot)com to be put in touch with a distributor.
Company information: INK-EEZE is a tattoo lifestyle company that was created to bring you the best products for your tattoos. All products are developed and tested by professional artists, collectors, and skin care specialists. Our goal is to make your tattoos as painless and pristine as possible so you can enjoy them for life. Numb. Heal. Protect.
For editors: high resolution photography of products, models, and logos available. Product samples available.
###