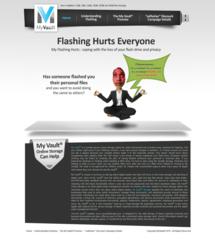 "Your insurance documents should be treated with the same concerns for security as your tax returns."
-- Eric Powers
Chicago, IL (PRWEB) August 04, 2011
An unbelievable number of otherwise savvy people continue to rely on portable Flash drives to store digital data. Thumb drives are fine for the average PowerPoint presentation or tuna casserole recipe, but not so much for sensitive data or vital documents, according to Eric Powers, CIO of EINSURE Services, Inc., the Chicago-based parent company of http://www.Einsurance.com, an online resource that provides competitive quotes for a variety of insurance products.
"Health insurance documents, for example, often contain highly confidential data including your social security number," said Powes. "Do you really want to risk storing that on something that can be so easily misplaced or stolen? Once that data is breached, the consequences can be disastrous." That is why his company is recommending that their clients store their insurance policies and applications on My Vault(R), an encrypted online digital safe deposit box service.
"It's amazing that people purchase insurance but then do nothing to ensure the safekeeping of their insurance documents. Most people just toss that stuff in a drawer. You wouldn't do that with your tax returns. Secure storage is really the final step in the insurance process and My Vault(R) provides the ideal solution."
According to Powers, My Vault offers the security and privacy of a bank safe deposit box without the trip to the bank. "If your house burns down at 3 a.m., the bank isn't going to open up for you. Worse, if you're hospitalized, your family may have no idea where you keep important documents. With My Vault, all that's needed is an Internet connection to access your insurance policies and other vital papers."
Powers added that My Vault also allows users to manage files and selectively share information with others. "With My Vault you have the ability to organize, sort, label and tag stored files. You also have folder-and-file-level-deep deadbolt security. You can securely send select files and folders for pick-up to others of your choosing using My Vault's link-share functionality. You can even set link passwords and link-share expiration dates. You can't do that with a Flash drive. And if you're commitment adverse, you'll be happy to hear there are no long-term contracts to sign," Powers said.
"Storage starts as low as $1.99 per month. It's even less for the first 5,000 users who sign up for a new account at http://www.MyVaultStorage.com and enter the code "exflasher". As part of My Vault's Flashing Hurts campaign, they'll receive 50% off for five months."
To get the discount on 2GB, 5GB, 10GB or 25GB storage, visit http://www.MyVaultStorage.com, sign up for a new account and enter the promo code "exflasher" at registration. The promotion begins August 1, 2011 at 12 a.m. MST and ends September 30, 2011 at 11:59 p.m. MST. Usage of the discount mandates compliance with the My Vault Privacy Policy and Terms of Service. For additional campaign details see http://www.FlashingHurts.com.
About EInsurance.com and EINSURE Services, Inc.
Einsurance.com, a division of EINSURE Services, Inc., provides a free online platform where consumers can easily find multiple insurance carriers and quotes for a variety of insurance products including auto insurance, business insurance, health insurance and home insurance. Specialty insurance products and financial services providers information are also available on the site. For the information and resources needed to get the best possible rates on auto insurance, homeowners insurance, health insurance, business insurance and other insurance products, and to learn more about state insurance laws, visit http://www.einsurance.com.
About My Vault®
My Vault® is the online digital safety deposit box for secure storage and digital management of select important private business and personal documents. The My Vault® website, http://www.MyVaultStorage.com, is designed for the safe storage of these important personal and business documents and data, offering users of the site a protected online storage vault. Stored information is not shared, distributed, viewed, copied or monitored by any third party within the bounds of the law.
Contacts:
Eric Powers, CIO
EINSURE Services, Inc.
312-372-7400
http://www.einsurance.com
The My Vault Press Team
1-800-699-0441 ext 3
press(at)myvaultstorage(dot)com
# # #