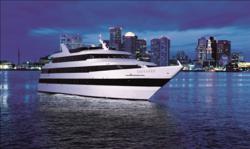 Boston, MA (PRWEB) August 05, 2011
Entertainment Cruises has partnered with Team Bonding, a company who has led the way in creating team building programs for more than 25 years. Together, Entertainment Cruises and Team Bonding have created a series of innovative programs designed to ensure employees return to their jobs relaxed, refreshed and ready to refocus.
Want to improve workplace communication, motivate employees and improve productivity? Step outside the four walls of the office and experience the ocean breeze while engaging in team building activities. These programs include:

Survey Says…. The Ultimate TV Game Show
Explore the depth of knowledge of co-workers and company culture in this hilarious adaption of the classic long-running game show. Highly interactive, team-focused, and unexpectedly gripping, the game matches the mind of the team to popular opinion in this corporate take on a timeless TV favorite.
•Hair-Raizing Race
Inspired by the popular TV Show, The Amazing Race, the fast-paced team building event challenges teams to navigate a series of detours and roadblocks as they race to complete the circuit.
•In it to Win It: Teams
In this popular game, teams compete with each other for the grand championship by building ten simple but nerve-wracking games using common household or office items. Challenges increase in difficulty as the points increase but the time limits never change. With only 60 seconds on the clock, the pressure builds and team pride is on the line
•CCSI: Corporate Crimes Scene Investivation
It's a chance to mimic Grissom, Willows, Stokes and Captain Brass as employees take on a Crime Scene Investigation. An actual crime scene is create right on board the ship – and it is up to the team to figure it out.
Pricing for the Team Building programs vary based upon number of participants. For more information, visit http://www.entertainmentcruises.com/boston or call 866-429-9283.
About Entertainment Cruises
The Boston division of Entertainment Cruises (Spirit of Boston, Odyssey I and Seaport Elite) is Boston's original entertainment cruise provider, offering more than 35 years of experience in unforgettable dining, entertainment and sightseeing cruises. For more information, log on to http://www.entertainmentcruises.com or call 866-836-3463.
###