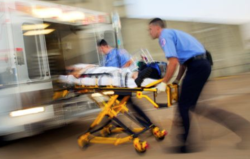 "We are providing cost saving alternative mobile 12-lead ECG tools to help improve door-to-balloon goals"
(PRWEB) August 04, 2011
Epiphany's mission is "to simplify the collection and management of diagnostic test results." With over 300 hospital installations in the US and abroad, Epiphany's application, Cardio Server, is a pure-web, browser-based, user-friendly application that receives, manages, and exports diagnostic test results to EMRs to assist hospitals in their goal of achieving meaningful use. Currently, Epiphany receives diagnostic test results from over 100 devices, from 40 vendors, in 15 diagnostic modalities. "We are providing cost saving alternative mobile 12-lead ECG tools to help improve door-to-balloon goals. This is a very positive service we can provide to local communities," said Epiphany's CEO, Russ DeRemer.
Mortara's ELI 10 Mobile is an ultra-portable electrocardiograph capable of acquiring, analyzing, and transmitting ECGs. Due to its rugged construction and compact design, it is particularly useful in fast paced, mobile environments. The device transmits 12-lead electrocardiograms to Cardio Server EMS using a standard cellular communication protocol or wireless local area network, enabling en-route confirmation of ECG interpretation. Cardio Server EMS in turn, transmits this data to receiving ECG management systems. Such early transmission of pre-hospital ECG data can be used to alert and mobilize catheterization teams, which may assist with reducing door-to-balloon times. By achieving ECG interpretation and diagnosis early on, a patient's optimal care plan may be quickly established and treatment may be expedited.
Mortara piloted its ELI 10 Mobile in the city of Milan, Italy and achieved door-to-balloon times of 33 minutes. "The concept of innovation is at the core of product development here at Mortara," said Chuck Webster, vice president of Marketing. "We are confident that the forging of this cutting-edge solution creates an opportunity for improved workflows and may ultimately have a positive impact on patient outcomes."
To learn more about Cardio Server EMS, visit http://www.epiphanycardio.com.
For more information regarding Mortara's ELI 10 Mobile, visit http://www.mortara.com.
###