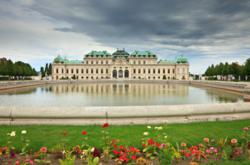 "During this special anniversary, there will be more Klimt works on display in Vienna than ever before!"
Atlanta, GA (PRWEB) August 06, 2011
In honor of Gustav Klimt's ('The Kiss') 150th birthday, Vienna will honor one of its most famous visual artists with numerous events that focus on the art, architecture, literature and music of the late nineteenth- and early twentieth-century Vienna. Special events and exhibits are scheduled to take place through 2012.
To help celebrate this major artist on his birthday, Austrian Airlines Vacation Center has designed a special 5-day, 4-night KLIMT Vacation that combines air from New York (JFK), Newark (EWR), Washington, DC (IAD), Atlanta (ATL), Miami (MIA), Chicago (ORD) OR Los Angeles (LAX) with four nights at the first class Hotel NH Belvedere. A half-day Vienna City tour and a combination ticket to the Belvedere Palace, home to the world's largest collection of Klimt paintings, are also included. Prices from JFK start at $1,299 per person, double occupancy.
'Klimt's world-famous painting 'The Kiss' illustrates the spirit of optimism at the dawn of the modernist era. This optimism is represented in the works of Klimt and his contemporaries Josef Hoffmann, Joseph Maria Olbrich, Egon Schiele and Oskar Koskoschka,' notes Norbert Kettner, director of the Vienna Tourist Board. "During this special anniversary, there will be more Klimt works on display in Vienna than ever before!"
Special exhibits in Vienna will include:
Belvedere Palace - Gustav Klimt/Josef Hoffmann, Pioneers of Modernism from October 25, 2011 – March 4, 2012. The Belvedere is home to the world's largest collection of paintings by Gustav Klimt, including The Kiss.
Albertina - Gustav Klimt: The Drawings. From March 14-June 10, 2012.
The Albertina will put the majority of the works from its 170 piece collection on display to give an unparalleled overview of Klimt's artistic phases.
Leopold Museum - Gustav Klimt. Travels. From February 24 – June 11, 2012. The museum will display major works by Egon Schiele and several other Secession artists alongside paintings by Klimt.
Wien Museum - KLIMT. The Wien Museum Collection. May 16 - September 16, 2012.
This is the first time that the entire Klimt collection of the Wien Museum will go on public display, including some 400 sketches.
Secession - The Secession building is one of Vienna's most stunning attractions and is home to Klimt's famous 1902 Beethoven Frieze.
Austrian Theater Museum - Nuda Veritas. From May 10 - October 29, 2012. Klimt's famous painting Nuda Veritas is the centerpiece of this exhibit and explores its importance in early-twentieth century art.
The KLIMT Vacation package may also be used as the start of a longer vacation: passengers can stay in Europe up to 30 days and add other cities and countries, if desired. Single supplements, upgrades, additional combinations and extensions are available upon request.
Validity:
Travel is available for travel between August 28 – October 31, 2011 (starting at $1,369 per person, double occupancy), or between November 1 – December 14, 2011 and January 8 - March 31, 2012 (starting at $1,299 per person, double occupancy). The single supplement is $260. Weekend surcharges apply. Extension nights and upgrades are available upon request, as are rates for travel during other dates.
All packages need to be booked at least 14 days in advance. Payment in full is required within 24 hours of confirmation. Once confirmed, the packages are non-refundable, non-transferable, and cannot be changed. Packages will be booked in economy class and are subject to schedule and space availability. Your minimum stay is 3 nights or one Saturday overnight, and your maximum stay in Europe is 30 days. KLIMT Vacation package prices include fuel surcharges but do not include US Customs / INS / Aphis fees / International Transportation Tax / Passenger Facility Charges / Civil Aviation Security Fee / domestic and foreign Security and Airport Charges of approximately USD $170-220 per passenger, depending on the itinerary. Additional taxes and fees may be collected by foreign governments. All taxes / fees / surcharges are subject to change and exchange rate fluctuations and may vary on the day of booking.
Further details may be found on austrianair-vacations.com. For additional information or to make reservations, contact Austrian Airlines Vacation Center at (800) 790-4682, or info(at)austrianair-vacations(dot)com.
###