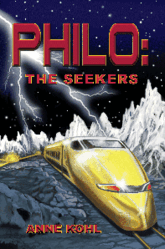 Their quest sets events in motion that have consequences for everyone in this sequel to 'PHILO: Pictures from Home.'
Colorado Springs, CO (PRWEB) August 16, 2011
Three people explore mysteries related to their planet, a desolate rock that's been their home for generations – ever since their ancestors crash landed in a storm. One seeks a revolution to save her people, another seeks his mother, and a third seeks adventure. Their quest sets events in motion that have consequences for everyone in this sequel to PHILO: Pictures from Home.
PHILO: The Seekers focuses on 16-year-old Ari, who searches for his missing mother, Anika. Sinister spy devices foisted by the Machtpolis on Ari and his friends threaten his attempts, so he invents a communicator to escape detection. Ari and his schoolmates are then plummeted into further trouble. Eventually, he escapes from the Children's Center to search for his mother in earnest. Despite close calls with authorities, Ari's skill with electronics – and a surprising new partner in crime – put him on the path to a life-changing adventure.
Author Anne Kohl, born and raised in San Francisco, earned bachelor's and master's degrees from the University of California, where she was elected to Phi Kappa Phi and Phi Beta Kappa. She has been employed as a Realtor, a psychiatric social worker, and programmer/analyst. She is also an artist, who has exhibited her work in juried shows. Kohl has published short stories in addition to her two PHILO novels. For more information, visit http://www.kohlsworlds.com.
PHILO: THE SEEKERS
Anne Kohl
Dog Ear Publishing
ISBN: 978-145750-113-5 224 pages $14.99 US
Available at Ingram, Amazon.com, Barnes & Noble
and fine bookstores everywhere
About Dog Ear Publishing, LLC
Dog Ear Publishing offers completely customized self-publishing services for independent authors. We provide cost-effective, fast, and highly profitable services to publish and distribute independently published books. Our book publishing and distribution services reach worldwide. Dog Ear authors retain all rights and complete creative control throughout the entire self-publishing process. Self-publishing services are available globally at http://www.dogearpublishing.net and from our offices in Indianapolis.
Dog Ear Publishing – self-publishing that actually makes sense.
###