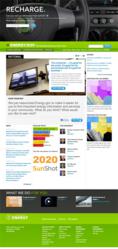 Being selected as the development partner for the Energy.gov relaunch was an enormous honor for Treehouse. It has been very exciting to see our federal and state governments moving toward Drupal, and we were thrilled to be a part of that movement.
New York, NY (PRWEB) August 05, 2011
It is with great pleasure that Treehouse Agency announces its role as development partner in the Drupal 7 relaunch of Energy.gov. The Treehouse team architected and developed the high-performance, multisite platform; this platform supports eleven Department of Energy sites at launch, with more intended to follow.
With the OpenGov and Campaign to Cut Waste initiatives, US government agencies have increasingly moved toward open source technologies; this move has been especially apparent with regard to Drupal, with its extreme flexibility, multisite capabilities, and compatible performance-boosting tools. Such moves to open source provide these agencies with greater flexibility, vendor independence, tools for providing open access to data in user-friendly formats, and potentially significant cost savings as they are freed from proprietary relationships and can obtain tools customized specifically to their operational needs.
Treehouse Agency CEO Michael Caccavano says, "Being selected as the development partner for the Energy.gov relaunch was an enormous honor for Treehouse. It has been very exciting to see our federal and state governments moving toward Drupal, and we were thrilled to be a part of that movement."
Project Highlights
Projected to save up to $10 million per year over the old system, the new site is feature-rich, readily extensible, and optimized to meet the substantial performance requirements of a major federal agency site. In addition to providing an enhanced user experience for both visitors and Energy.gov staff, the project brought to life innovations in data visualization and Drupal development.
Development highlights of the relaunched Energy.gov include:
Data Visualization API
Historically, data rendering libraries have required specialized data handling to work with disparate data structures. Treehouse developed the Data Visualization API to define a standardized data structure for visualizations, creating an abstraction layer that allows data to be rendered in any library for which an adapter has been written. This API is further combined with the Drupal 7 Entity API to create a very flexible system that converts these visualizations to Drupal entities.
Sophisticated Workflow
Using the State Machine module, the Treehouse team created a sophisticated content workflow pattern customized to the Department of Energy's editorial review process. (State Machine provides a flexible system for building rules and reaction associated with changes to the status of an entity.) With the implemented workflow content can be written, edited, and reviewed by multiple staff members prior to being publicly visible. Writers can draft new articles or prepare revisions for existing articles, then send the article to an editor for review and a decision to approve for publication or return for revisions.
Drupal Bean Module
Bean provides a means of producing block types with custom fields (much like custom content types). Using code-based configuration, it bypasses the user interface and feature management issues that accompany UI-based configurations. The module has been contributed back to the Drupal community and is presently available as an alpha release; the project page for Bean can be found at http://drupal.org/project/bean.
Additional project highlights include easy content sharing between sites on the platform, stunning data mapping via MapBox integration, and substantial editor empowerment; the new system allows editors to create and deploy new sites on the platform without relying on developers or development hours.
"This relaunch represents the next step of the Department's comprehensive website reform, modernizing how consumers and businesses access our information and resources and making it easier for our staff to communicate with the public and each other," said Cammie Croft, Department of Energy Director of New Media and Citizen Engagement.
An All-Star Team
A successful project of this scale requires the involvement of multiple teams, each being leaders in their respective areas of expertise. Along with the architecture and development experts from Treehouse Agency, this initiative drew from the substantial talents of several firms:
Acquia
The recognized leader in enterprise Drupal support, Acquia provided critical relationship management services, facilitating communication, change management, and technical knowledge sharing across the various parties. Acquia additionally provided architectural assistance and continues to provide the Department of Energy with ongoing Elite 24x7 support.
HUGE, Inc.
HUGE kicked off the project with site designs and information architecture consulting. The design and user experience gurus from HUGE ensured that the new site would be both visually impressive and user-friendly.
Development Seed
Creators of MapBox, the team from Development Seed provided consultation services to the Department of Energy team in creation of rich data maps.
Energy Enterprise Solutions, LLC
A Top 100 Federal Prime Contractor, EES built the knockout team that would bring the Energy.gov relaunch to life.
BlackMesh
Acclaimed hosting company BlackMesh provided the cloud-based hosting Energy.gov's site architecture requires to maintain top performance and future scaling.
The project vendors worked under the leadership of Cammie Croft, Department of Energy Director of New Media and Citizen Engagement.
Says Michael Caccavano, "For a bunch of geeks like us, it was a very cool opportunity to dig into the features and challenges required by a platform of this scale, and we couldn't have asked for better partners or client leadership."
For more details regarding this implementation, follow @treehouseagency on Twitter to get live updates as developer insights are available.
At Treehouse Agency, we architect, build, and theme complex, large-scale websites and the content management systems (CMS) that power them. These sites support the vision and growth of content-rich organizations including entertainment, media, and publishing entities; community organizers; and academic and government institutions. The Treehouse approach combines an assemblage of powerful technologies and best practices to create rock-solid systems that are virtually limitless in their scalability and extensibility.
###