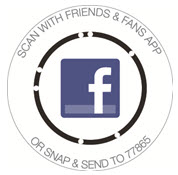 With the marriage of SnapTags and social media networks, brands are now more equipped than ever to engage and build sustainable relationships with consumers.
Denver, CO (PRWEB) August 05, 2011
SpyderLynk, a leading marketing technology company and creator of the SnapTag™, today announced its launch of Social SnapTags™, an innovative new solution enabling marketers to use social icons, made interactive with the SnapTag Code Ring™ technology, on mass marketing to activate sustainable social connections with mobile consumers.
SpyderLynk worked with Glamour on its first-of-its-kind technology for the magazine's September "Friends" issue, on newsstands today. Social SnapTags are being deployed throughout Glamour on editorial and advertising pages, enabling and incentivizing consumers to join brands' social networks.
Social SnapTags feature Facebook or Twitter icons that are placed on pages to give consumers an opportunity to LIKE or FOLLOW a brand, a celebrity or an editor. Consumers with an Android or iPhone scan the Social SnapTag with the Glamour Friends & Fans app while those with standard camera phones simply snap and send a picture of the Social SnapTag to the designated short code.
To accelerate consumer engagement, marketers have the opportunity to incentivize consumers who LIKE their brands with exclusive offers like access to sweepstakes entries, special content, free samples and discounts. A first for all magazines, the cover of Glamour's September issue features a SnapTag that offers readers exclusive content from its cover star, Rihanna. These SnapTags allow people to instantly follow Glamour editors on Twitter, score discounts and get exclusive access to celebrity chats and behind the scenes videos on Glamour's Facebook page. Advertisements feature SnapTags as well, connecting consumers to gift cards, trips to New York, discounts, coupons, free overnight shipping for life, even a chance to win a kitchen makeover.
Consumers can instantly share offers with their friends. This turnkey tool allows consumers to share brand offers by activating a Facebook post, Tweeting or emailing their friends directly from their mobile phone, thus extending the footprint of the Social SnapTag campaign substantially.
Social SnapTags offer a true cross-platform technology that seamlessly bridges traditional, mobile and social marketing. A print impression can be turned into a mobile interaction that then leads to a viral word-of-mouth campaign by sharing of offers with other users of mobile phones, computers and tablets.
"Social SnapTags allow marketers to leverage their mass marketing to drive connections with socially active consumers," said Nicole Skogg, CEO of SpyderLynk. "With the marriage of SnapTags and social media networks, brands are now more equipped than ever to engage and build sustainable relationships with consumers."
"By incorporating Social SnapTags into Glamour's new Friends & Fans app, we were able to give both our advertisers and readers immediate gratification and a smart way to connect brands to all their key social networking sites," said Jenny Bowman, Glamour Executive Creative Services Director. "What's not to like?"
No matter the activation method Social SnapTags give brands the ability to create an ongoing personal dialogue with mobile consumers using popular social media channels – which provides brands with yet another medium to increase brand affinity and loyalty.
Sophisticated QR Code Alternative Offers True Brand Engagement with Consumers to Drive Awareness and Loyalty
SpyderLynk brings marketing best practices to the mobile platform. SnapTags are branded logos or icons made interactive to deliver mobile marketing campaigns using SnapTag Code Ring™ technology. Marketers have the ability to impact consumers at all stages of the consumer decision journey with mobile initiatives designed to engage consumers, drive purchase consideration, activate a sale or build a sustainable mobile connection with a consumer via a loyalty club. As opposed to QR Codes, which typically drive mobile users to websites, SnapTags activate the delivery of multimedia content, information or offers tailored to the occasion and hosted by SpyderLynk's Smart Response Platform. With the launch of Social SnapTags, SpyderLynk is now able to activate Facebook and Twitter social connections between brands and consumers as well.
SpyderLynk
SpyderLynk activates branding to drive marketing results. SpyderLynk, the creator of the branded, algorithm-driven SnapTag™, enables brands such as Coke Zero, Revlon, L'Oreal, MillerCoors, Warner Brothers, Toyota, Bud Light and others to engage consumers and accelerate purchase cycles. A more sophisticated 2D Mobile Barcode, the SnapTag technology turns brand logos, featured on any type of packaging, advertising, signage or screens, into interactive marketing tools. Consumers with smart or standard camera phones can activate SnapTags to instantly access offers, content, promotions, and information. Based in Denver, Colorado, SpyderLynk was founded in 2006 and can be found online at http://www.spyderlynk.com.
Follow us on Facebook (facebook.com/snaptag), Twitter (@SpyderLynk) and through the #SnapTag hashtag.
# # #