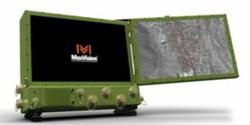 Madison AL (PRWEB) August 09, 2011
MaxVision's MesaMax™ rugged deployable workstation will become a critical component of AAI Unmanned Aircraft Systems One System® Ground Control Station (OSGCS). The portable OSGCS is the premier ground control station of the U.S. Army and Marine Corps. It is used to operate multiple unmanned aircraft systems (UAS) over battlefield and operations areas and to disseminate the valuable intelligence video collected. In coordination with MaxVision, AAI Unmanned Aircraft Systems, an operating unit of Textron Systems, a Textron Inc. company, developed the portable OSGCS as the core of the Shadow® Tactical UAS (TUAS) program.
Designed to operate in extreme environments, including dirt, dust, debris, rain, heat, and cold, the MesaMax workstation will conduct all of the computing and processing for the portable OSGCS. The MesaMax will also host the digital data link to the Shadow enabling the operators to "communicate" with the air vehicles. In addition, the MesaMax workstation will process and disseminate the video retrieved from the Shadow, thereby arming warfighters with the information and situational awareness needed to successfully complete their missions.
One of the major issues with operating a UAS in theater is the ability to see the ground control station displays in direct sunlight. Until now, operators have been restricted to viewing displays in sheltered environments, which may reduce situational awareness. By comparison, MesaMax's advanced graphics features mean that operators will be able to clearly see the display graphics no matter how bright or how dark the environment.
"MesaMax employs a new-to-market, highly-innovative, sealed electronics packaging technology that allows the use of best-of-class COTS motherboards and graphics technology while holding up to the most extreme military testing standards. All COTS components are totally sealed with state-of-the-art heat transfer to a quiet, unfiltered, air exchange. This creates an amazing compact desktop footprint of less than 6" deep. Also, slide-out foot extensions of less than 12" keep the unit stable in winds over 35 knots," explains Bruce Imsand, MaxVision CEO/CTO. "What this means is the latest technology from mainstream industry is available in a truly ruggedized configuration and at a lower price than other alternative electronics packaging strategies that require full, Mil-Std circuit cards."
Released in June 2011, the MesaMax offers the following features:

Rugged, IP65 fully-sealed and stable against blowing rain in 35 knot winds
–32 to +60°C operating temperature range while in full direct solar load
Latest Intel® Xeon™ 5600 processors (single or dual 6-core processors)
Up to 48 GB of DDR3 main memory in a dual-processor configuration
Dual 22" 1680 x 1050 direct sunlight viewable displays (a single display configuration is available)
Supports up to 12 removable solid state drives (SSDs) presented as three, removable, 4-SSD magazines (via options, can achieve 3 TB max storage)
nVidia® Quadro® FX 1800 high-performance graphics subsystem (Quadro 2000 and Quadro 4000 available in 2012)
Certified Mil-Std 810G for shock, vibration, humidity, temperature, salt fog, fungus etc.
Certified Mil-Std 461F
http://www.maxvision.com/ruggedcomputers/MesaMax.html
MesaMax will be displayed at the following upcoming trade show events AUVSI Washington DC August 16-19 booth 1439 and Space and Missile Defense Conference in Huntsville Al August 15-18 booth E3004.
About MaxVision
Founded in 1993, MaxVision manufactures rugged, portable and transportable servers, workstations, and accessories with no compromises in performance. MaxVision's patent-pending designs provide extensive customization, including advanced air filtration systems, advanced power conditioning, and certified tolerance for extended runtime within -32 to +60 degrees Celsius range. For more information, visit http://www.MaxVision.com
###
MaxVision, MaxPac, MaxCube, TeraPac, TeraPac3, MaxRax, MiniRax, 6Pac, BPac, MesaMax, HDPac, and the MaxVision Logo are trademarks or registered trademarks of MaxVision, LLC. Other brands are trademarks of their respective owners.
© Copyright 2011, MaxVision, LLC.