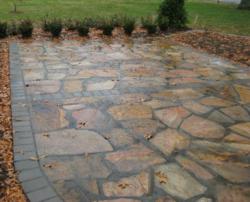 Concrete as the material for a patio just makes more sense than wood. It's less upkeep and it's environmentally friendly.
Nashville, TN (PRWEB) August 08, 2011
Nashville contractor, Custom Hardscapes, LLC is saving trees as well as clients' money by utilizing eco-responsible business tactics. In May of 2011, owner Brien Degryse decided to use less waste by getting rid of paper billing. He now does his billing and filing electronically. Furthermore, Degryse has implemented more concrete and stone hardscaping, as opposed to landscaping with wood.
Plenty of professional patio builders and outdoor living space designers use wood to complement their clients' backyards; however, using natural wood is detrimental to the environment and can get expensive in the long run.
Degryse is running his business with the environment in mind. "Using wood as the material for a patio just doesn't make sense. It might be cheap upfront, but wood rots and you'll have to replace it eventually." That's why Degryse chooses to build patios out of concrete instead.
Custom Hardscapes, LLC has nearly 15 years of experience building patios and retaining walls in Nashville and surrounding areas. They are a member of the Better Business Bureau and Degryse has been certified by both the National Concrete Masonry Association and the Interlocking Concrete Pavement Institute. Custom Hardscapes, LLC strives to stay current with concrete and masonry training in order to fully serve residents of Nashville with patio and outdoor living space designs.
Other than patios and retaining walls, Custom Hardscapes, LLC can design and build courtyards, driveways, and implement landscape lighting. The company's commitment to custom satisfaction is just as much of a priority as their compassion for the environment.
###