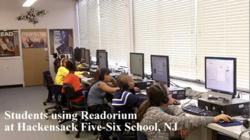 Readorium will help huge numbers of struggling readers understand complex text and become skillful and enthusiastic reading detectives.
Teaneck, NJ and Lincroft, NJ (PRWEB) August 09, 2011
Mtelegence Corporation has been awarded a Phase II SBIR contract from the U.S. Department of Education's Institute of Education Sciences (IES) to develop Readorium, a web-based software solution to help middle school students comprehend non-fiction text in the area of science. There have been major breakthroughs in educational research in terms of teaching nonfiction comprehension, but too often, middle school teachers are forced to cover large amounts of new material in 40 to 45-minute class periods, and lack the time and resources to teach literacy strategies effectively. Mtelegence strongly believes that Readorium, when fully developed, will help huge numbers of struggling readers understand complex text and become skillful and enthusiastic reading detectives.
Harriet Isecke, Mtelegence co-CEO and the Principal Investigator of the Readorium project points out that, "Middle school is a pivotal time as students are exposed to increasingly challenging content material. Teachers expect students to make the transition from 'learning to read' to 'reading to learn.' This transition is often unsupported, and students flounder. Students who struggle with literacy skills cannot perform well in school and run the risk of becoming disaffected. Reading failure is the main reason that almost seven thousand students, on average, drop out of US high schools every day."
Readorium uses an engaging game-based economy to teach struggling readers in grades 6-8 how to use scientifically-proven strategies to construct deep meaning from text based on the National Science Standards. Enrolled students can use the program from school or home and may access help features such as word definitions, etymologies, and scaffolded multi-modal hints. Animated e-tutors guide students through interactive strategy lessons, gradually helping them become more self-reliant as they read. All text is written on 12 different readability levels, and the text that is presented to students becomes incrementally more complex as they gain the necessary skills. Readorium keeps track of student responses, time on task, and their use of hints. The Teacher Management System gives educators complete access to individual and group progress reports and to lessons and activities designed to help them tailor classroom instruction to students' needs.
"Readorium computerizes these best practices and presents them in an engaging, adaptive format where students not only learn how to comprehend text, but they also learn science in sync with their school curricula and with the National Science Standards," commented Attila Medl, Mtelegence's co-CEO and the co-Investigator of the project.
About Mtelegence Corporation and How to Become a Test Site
Mtelegence develops educational software for middle grade students and is headquartered in New Jersey. Schools interested in becoming test sites for Readorium are urged to contact us through our website http://www.readorium.com or by email: info at readorium.com
About the contract awarded by the U.S. Department of Education
"The R&D described here was supported by the Institute of Education Sciences, U.S. Department of Education, through the Small Business Innovation Research (SBIR) program contract ED-IES-11-C-0042 to Mtelegence Corporation. The opinions expressed are those of the authors and do not represent views of the Institute or the U.S. Department of Education."
###