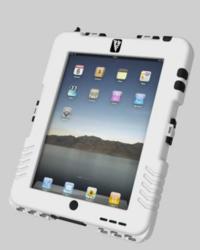 Ruggedised, waterproof protection for your iPad or iPad2...
Sydney, Australia (PRWEB) August 10, 2011
New applications are extending the realm of the iPad onto building sites, boats and other potentially damaging environments. Digital Marine's new waterproof, extremely rugged iPad case provides excellent protection against water ingress, scratching, dust and impacts.
Designed and manufactured in Germany from tough polyamide material the case meets IP67 specs for waterproofing and MIL810.4 for dust protection.
Clever design allows use of all the buttons and removable waterproof plugs allow the charging and headphone jacks to be accessed. The case itself is opened in seconds for removal or installation of the iPad and no tools are required.
There is a "Quicksnap" bracket available for fast mounting that is Ram-Mount compatible with palm and shoulder strap options. the cases come in black or white with custom colours available on demand.
During the recent Sydney International Boatshow an iPad was displayed inside the case completely immersed in water, it was also repeatedly dropped during the five day show to demonstrate impact resistance exhibiting no ill effects to the case or the iPad.
Digital Marine is a distributor in Australia of marine electronics including AIS transponders and receiver systems, the Oceantalk Super Digi HD Mobile TV receiver, GPS receivers and a range of marine cameras including Thermal imaging and low light cameras.
The Digital Marine iPad case can be yours for $400 including GST. Contact us for your local installing dealer or retailer Australia wide.
###