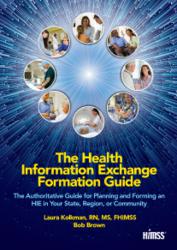 "The Health Information Exchange Formation Guide … will undoubtedly tip the scales of nascent HIEs toward success."
Laura Adams, president and CEO, Rhode Island Quality Institute
St. Petersburg, FL (PRWEB) August 09, 2011
Praise from industry pioneers and brisk sales in the wake of its highly successful launch have established The Health Information Exchange Formation Guide: The Authoritative Guide for Planning and Forming an HIE in Your State, Region or Community as the definitive book on HIE planning and formation.
The book was co-authored by Laura Kolkman, RN, MS, FHIMSS, founder and president of Mosaica Partners, a nationally recognized HIE consulting firm, and Bob Brown, the firm's vice president of professional services. Released in February by the Healthcare Information and Management Systems Society (HIMSS), the book provides a practical approach to forming a state-, regional- or community-based HIE.
"The Health Information Exchange Formation Guide couldn't be more timely or more valuable during this unprecedented opportunity for dramatic redesign of our healthcare system. The quality gains and billions of dollars in savings from health information technology depend heavily upon robust health information exchange. This guide will undoubtedly tip the scales of nascent HIEs toward success," said Laura Adams, president and CEO, Rhode Island Quality Institute(RIQI).
The book describes a structured approach that incorporates leading practices in the planning, formation and operational stages of an HIE initiative. In addition to a high-level history of HIE and discussion of its importance in healthcare, it includes a step-by-step guide, numerous case studies, examples, checklists and references.
"As I fulfilled my responsibilities as chair of the Governance Work Group for the Health Information Network of South Texas, I found myself constantly turning to The Health Information Exchange Formation Guide," said Eddy L. Herrera, CEO, Amistad Community Health Center. "I first used it when we developed the vision and mission, and now I'm using it as we work on a set of organizational principles. I'm sure I will be relying on it as we continue our organizational developmental work and beyond."
RIQI's Adams notes that much has been learned about HIE over the past decade from the successes and failures of pioneering exchange initiatives. These are lessons that emerging HIEs can apply to dramatically increase their odds of success.
"The Health Information Exchange Formation Guide is the current best source of this new knowledge and how to put it to use. It is a tremendous resource for creating successful exchanges and delivering on the promise of health IT," she said.
The Health Information Exchange Formation Guide is available for purchase in the HIMSS online store. For more information, including the table of contents and chapter summaries, helpful downloadable figures and checklists, and ordering information, visit http://www.himss.org/hieformationguide.
About Mosaica Partners
Based in St. Petersburg, Fla., Mosaica Partners is a nationally recognized consulting firm specializing in Health Information Exchange (HIE) strategy, business planning, development and process optimization. Mosaica provides its services to states, regions, public and private companies and other organizations with interests in health information exchange and healthcare informatics. In addition, Mosaica provides Vendor Advisory Services to hardware and software firms considering entry into the HIE or health informatics arenas.
# # #