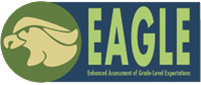 EAGLE is designed to help teachers identify their students' strengths and weaknesses, access targeted classroom resources, and refine instructional strategies based on student assessment and performance.
Monterey, CA (PRWEB) August 09, 2011
Pacific Metrics Corporation (http://www.pacificmetrics.com), a leading provider of online assessment solutions, announces that over one million of the Enhanced Assessment of Grade-Level Expectations (EAGLE) were administered during the 2010–2011 school year, a 66 percent increase over the previous year.
The EAGLE system is an online classroom tool that works seamlessly to link information between students, teachers, and administrators. Developed and implemented in 2007 for the Louisiana Department of Education, the system supports formative assessments in English language arts, mathematics, science, and social studies for students in grades 3–12. EAGLE is designed to help teachers identify their students' strengths and weaknesses, access targeted classroom resources, and refine instructional strategies based on student assessment and performance.
Pacific Metrics designed the EAGLE system for the classroom environment with the understanding that a system that allows teachers to customize formative assessments to meet the needs of a class or individual student will support increased success in student performance on Louisiana's summative tests. Teachers can access pre-made tests within the system or create their own tests from questions that are aligned to state standards. The tests incorporate built-in online tools including rulers, calculators, graphs, and an interactive periodic table to support specific content areas.
Numerous school districts throughout Louisiana rely on the EAGLE system for monitoring student progress. Sheldon Jones, Assessment Accountability Supervisor for the Richland Parish School Board in Rayville, Louisiana, states "Richland Parish has placed great emphasis on the use of EAGLE with fidelity as a formative assessment tool. Superintendent Cathy Stockton supports and leads the effort. Teachers, facilitators, administrators, and central office staff have attended regional training on the functions and usage, of the online system and the data analysis tools that are provided."
The EAGLE system provides timely reports allowing teachers and students to view scores for both multiple-choice and constructed-response test questions. The teachers can then communicate feedback directly to individual students through the online messaging system and customize subsequent assessments using that feedback to target individual student needs. Through online quizzes and tests, the system provides students with an opportunity to practice GLE-based skills and receive immediate feedback on their progress. In addition, EAGLE offers appropriate instructional resources linked to student scores to assist teachers with curriculum planning.
"In DeSoto Parish we use the EAGLE system in many ways. We use it primarily for monitoring progress in the state standards in each available grade level and subject area. Many teachers also use it to create parallel assessment items in order to make their teacher-created tests similar in structure to the EAGLE items" states Tammy Cole, Coordinator of Instruction for DeSoto Parish School System in Mansfield, Louisiana. "We have determined that when teachers teach using EAGLE progress monitoring tool and structure their own tests with the EAGLE items, the EAGLE post-test is an accurate predictor of their students' scores on the EOC tests. The year-round access to EAGLE allows the teachers to monitor what their students know in relation to the EOC exam."
"Reaching this important milestone was made possible by our exceptional relationship with the Louisiana Department of Education. Together, through the development of an effective and efficient online system, we support the school administrators and teachers' goals of improved test scores," says Robin Seldin, Program Manager at Pacific Metrics. "As Louisiana moves forward with the transition to the Common Core State Standards (CCSS), Pacific Metrics will release new functionalities that support the CCSS. We expect to continue to see significant increases in testing numbers in upcoming years."
Pacific Metrics provides comprehensive professional development for the EAGLE system through yearly on-site workshops, an online training website, user guides, teacher and student tutorials, and a phone and email-based help desk. For more information about EAGLE or any of Pacific Metrics' assessment solutions, email info(at)pacificmetrics(dot)com or call (831) 646-6400.
About Pacific Metrics
Pacific Metrics Corporation creates lasting improvements to the assessment and learning environment through the thoughtful use of technology. Headquartered in Monterey, California, Pacific Metrics provides specialized psychometric software and sophisticated online systems to state departments of education and to organizations that develop, administer, and score large-scale assessments. The company has achieved recognition for its technical work and for being a leading force in the development of innovative, customized, web-based systems. For more information, visit http://www.pacificmetrics.com.
###