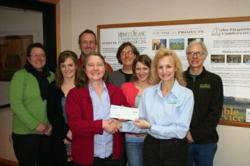 While we're pleased to have passed this major milestone of $500,000 in donations to worthy organic agricultural and educational institutions and projects, we're not stopping there.
Norway, IA (PRWEB) August 09, 2011
Coinciding with the celebration of its' 10th anniversary, Simply Organic® has surpassed the half-million-dollar contribution mark through a recent donation made to the Midwest Organic & Sustainable Education Service (MOSES). Simply Organic's One Percent Fund– SO1% – takes 1 percent of net sales on all Simply Organic spices, seasoning mixes, baking flavors/extracts, and baking mixes, and uses it to support organic agriculture through education, research, and grower development. Additionally, a new YouTube video has been posted to highlight the major milestones of Simply Organic's ten-year history, including key donations of the SO1% Fund.
"The SO1% Fund is having a remarkable impact both domestically and internationally," explains Kory Kazimour, senior brand manager for Simply Organic. "Every time consumers purchase a Simply Organic item, not only do they receive a high-quality product, but they're also supporting important organic programs. Among them are sustainable farming apprenticeship programs, training on organic agricultural practices for farmers in India and Sri Lanka, and advocacy efforts for organic farming research in Washington, D.C.," adds Kazimour.
Some of the recent contributions made with SO1% funds include a scholarship in perpetuity at the University of California, Santa Cruz, in the Agroecology and Sustainable Food Systems apprenticeship program. After graduation, Simply Organic's first scholarship recipient, Evelyn Rosas, went to Washington, D.C., to intern for several months at the Organic Farming Research Foundation, another benefactor of the SO1% Fund.
In the mountainous regions of southwest India, tribal farmers grow a variety of crops on just a few hectares of land. The SO1% Fund donated nearly $30,000 in 2009 to provide organic agricultural training to 790 farmers living in and around that region. Also invited to the training were members of the Kerala state and local governments, many of whom attended so they could gain a better understanding of organic agriculture and its benefits. Their response was positive, and additional governmental support of organic agriculture in the region is expected.
The most recent donation of $10,000 went to MOSES which supports farmers striving to produce high-quality, healthful food using organic and sustainable techniques. One way the organization accomplishes these goals is through its annual conference. From its humble beginning with 90 attendees 20 years ago, the 2011 conference in February attracted more than 2,600 farmers, advocates, educators, and community members. The conference features many superb farming-related workshops in conjunction with a vendor tradeshow and time for networking with other farmers.
"While we're pleased to have passed this major milestone of $500,000 in donations to worthy organic agricultural and educational institutions and projects, we're not stopping there," remarks Kazimour. "Now that people know they can help make a positive difference by purchasing Simply Organic products for all their seasoning and baking needs, we believe we can break the million-dollar threshold in a much shorter time frame than the ten years it took us to get to this point," says Kazimour.
Simply Organic®, an all-organic brand from Frontier Natural Products Co-op™, offers an extensive and growing selection of certified organic spices, seasonings, baking flavors and mixes while supporting organic agriculture around the globe. By providing the best available organic seasonings and donating one percent of sales to organic agriculture and education, Simply Organic genuinely offers "Simply Healthy Living. Simply Great Taste." Find out more about Simply Organic at http://www.simplyorganicfoods.com.
Founded in 1976 and based in Norway, Iowa, Frontier Natural Products Co-op™ offers a full line of natural and organic products under the Frontier, Simply Organic®, Aura Cacia® and Aura Cacia Organics® brands. Products include culinary herbs, spices and baking flavors; bulk herbs and spices; and natural and organic aromatherapy products. Frontier's goal is to provide consumers with the highest-quality organic and natural products while supporting and promoting environmental and social responsibility. For more information, visit Frontier's website at http://www.frontiercoop.com.
###