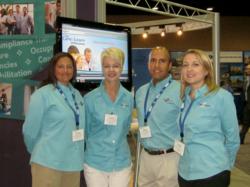 "The relationships we have formed through FHCA have developed over the years into strong professional partnerships." - Kelly Conlon, Marketing Communications Manager for Care2Learn
Tampa, FL (PRWEB) August 10, 2011
Care2Learn, the leader in online healthcare CE for the post-acute care industry, will showcase its award-winning CE courses and healthcare compliance training curriculum August 15–16 at the 2011 Florida Health Care Association Annual Conference & Trade Show at the Hilton Orlando Bonnet Creek. The popular event offers long-term care professionals an exclusive opportunity to network with industry peers and showcase their unique products and services.
Care2Learn will be located at Booth 1012, where visitors can preview what the eLearning provider has to offer, including more than 800 hours of fully accredited online healthcare CE courses and over 130 online healthcare inservices spanning 17 disciplines within the post-acute care industry. Care2Learn's industry-leading Learning Management System incorporates the latest eLearning technology, with full reporting and live client support available seven days a week.
"We look forward every year to the FHCA Conference," says Care2Learn Marketing Communications Manager Kelly Conlon. "Because we're a Florida-based company, it's just such a great opportunity to meet with other local businesses right here in our own backyard who share Care2Learn's commitment to advancing patient care through innovative products and services. The relationships we have formed through FHCA have developed over the years into strong professional partnerships, and our team members are eager to get out there and show the industry everything we have to offer."
Industry professionals who visit Care2Learn at the FHCA Annual Conference & Trade Show will receive a free course, Managing Power and Influence by John Pratt, a professor of Long-term Care Administration at Saint Joseph's College of Maine and a Fellow of the American College of Health Care Administrators. The 1-hour online healthcare CE course explains how leaders and managers can use power and influence effectively in the healthcare setting.
About Care2Learn
Founded in 2000, Care2Learn provides online continuing education and compliance training solutions for the post-acute care industry. The Care2Learn course library includes more than 800 accredited course hours delivered to more than 395,000 healthcare professionals in all 50 states. Acquired by RedVector, the premier online CE provider for the design, engineering, and construction industries, Care2Learn continues to grow by offering customized online eLearning universities to companies wishing to offer training and education solutions to their entire staff in a cost-effective, easy-to-use, and readily accessible manner. For further information, call 1-866-703-9418 or visit http://www.Care2Learn.com.
###