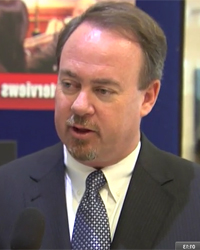 Riverside County's Fast Track Program shows that we are open for business.
Riverside, CA (PRWEB) August 10, 2011
Riverside County Office of Foreign Trade, part of the Riverside County Economic Development Agency, hosted the "Export Manufacturer's Day". This show was for current trade partners and local business owners looking to develop and/or expand existing markets overseas. Riverside County ranks 23rd in the country in foreign trade and is working with 35 separate counties that are actively engaged in foreign direct investments to the county. In addition, some of the nearly 4,000 manufacturers within the county are exporting to over 180 different countries creating an 11.5 billion dollar export industry. What does all this mean? More jobs!
Dozens of manufacturers and small business owners throughout the County of Riverside attended this half-day event that was held inside and in front of the county building. On display were RVs from MVP RV (who just signed a five billion dollar contract with China), custom high performance boats from Eliminator Boats and unique custom spas from Regal Spas (who are exporting spas in over a half dozen countries). Other assorted displays included medical products from Wakunaga Pharmaceuticals, automobile products from K&N Filters, California wines for Temecula wineries and protection gear from Paulson Manufacturing Inc., (who are exporting to over 140 different overseas markets).
Established in March 2009 by the Board of Supervisors, the Office of Foreign Trade (OFT) has already made a significant contribution to the local business community. Its goal is to assist local firms in exporting products, goods and services to nations around the globe. The OFT has already established a formal partnership with the Export-Import Bank of the United States which offers businesses assistance in securing financing for exports through the Ex-Im Bank and the EB-5 Visa Program.
Southern California CEO Magazine was in attendance and interviewed key export partners. They spoke about the current economy and issues they have to overcome in expanding their business overseas. With export and import assistance from the OFT, many of these successful business owners, corporate officers, investors, and entrepreneurs have created new jobs and investments within the County of Riverside.
To assist these exporters, federal officials gave the green light to annex much of Southwest Riverside County into San Diego's foreign trade zone. This set the stage for local manufacturers to save significant amounts of money on tariffs and taxes. Riverside County officials hail the development as a boon for the local economy. "This is a real huge victory for us," said Tom Freeman, Foreign Trade Commissioner in the County Department of Economic Development..
Contact:
Tom Freeman
Foreign Trade Commissioner
951-955-6662
tomfreeman(at)rivcoeda(dot)org
###