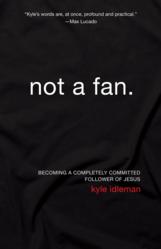 "I am not a fan of Jesus," says pastor Kyle Idleman in his new book, Not a Fan.
Los Angeles, CA (PRWEB) August 10, 2011
Pastor Kyle Idleman's recent book Not a Fan (Zondervan) has reached #8 on the CBA Best-Selling Christian Living list for August 2011, sharing the top 10 with books such as Radical, Crazy Love, Made to Crave and Forgotten God. Since the books release this May, the Not a Fan message has started a movement through churches across America and is radically changing the way Christians view their relationship with Christ.
Publishers Weekly calls Not a Fan "a refreshing read to recharge apathetic churchgoers," and the book has been featured in a number of other influential press outlets including The Huffington Post, Christianity Today and The Christian Post, as well as TBN's "Praise the Lord," The Janet Mefferd Show, KLOVE and SIRIUS XM Radio.
The Not a Fan message started as an Easter sermon, and 221 individuals at Southeast Christian Church in Louisville, Ky. were baptized as a result. With Not a Fan Idleman focuses on what truly accepting Christ means in our lives. Using the passage in Luke 9:23, of Jesus' invitation to follow Him, Idleman challenges believers to ask themselves, "am I a fan or a follower?"
Idleman has not been alone in his quest to redefine America's relationship with Jesus. Online, almost 30,000 Christians have declared that they are "not a fan" on the book's facebook page. Even popular Christian singer, Mark Hall of Casting Crowns, wore a Not a Fan t-shirt before thousands during a concert this past March. Other supporters include faith leaders such as Max Lucado, Gov. Mike Huckabee, Craig Groeschel, Jud Wilhite and Mark Batterson.
In response to the growing momentum and demand for the Not a Fan book, Idleman has a also created Pastor resources, a movie and a DVD based study all with the Not a Fan message at its core.
About Not A Fan:
Page Count: 224
Pub Month: May 2011
Publisher: Zondervan
ISBN: 0310331951
Price: 14.99
About Kyle Idleman
Kyle Idleman is the Teaching Pastor at Southeast Christian Church in Louisville, Kentucky, the 5th largest church in America, and speaks to over 20,000 each weekend. He is the author and presenter of the award-winning video curriculum series H2O: A Journey of Faith and The Easter Experience. Kyle and his wife, DesiRae, have four young children.
About Zondervan
Zondervan is the world's leading Christian publisher of books whose authors are noted for their excellence in the craft of writing as well as their worthy contribution to the ongoing global evangelical conversation. The works published by Zondervan not only confirm readers' faith and understanding, they also challenge and stretch readers' thinking. For more than 75 years, Zondervan has delivered transformational Christian experiences through general, ministry, and academic resources by influential leaders and emerging voices, and been honored with more Christian Book Awards than any other publisher. Headquartered in Grand Rapids, Mich., Zondervan publishes bestselling books, audio, video, curriculum, software, and digital products in such categories as biblical languages and studies, biography, business, contemporary issues, counseling, cultural, devotional, evangelism, family, fiction, history, inspiration, leadership, ministry, pastoral, personal development, prayer, philosophy, reference, relationships, textbooks, theology, youth and more. Zondervan resources are sold worldwide through retail stores, online, and by Zondervan ChurchSource, and are translated into nearly 200 languages in more than 60 countries. Visit Zondervan Books on the Internet at http://www.zondervan.com/books.
###