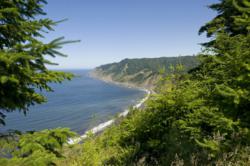 "This is an urgent situation in which the public will play a vital role," said Ruskin K. Hartley, executive director for Save the Redwoods League
San Francisco, CA (PRWEB) August 30, 2011
Save the Redwoods League, the only nonprofit organization dedicated to protecting ancient redwood forests throughout their natural ranges, launched a public fundraising campaign today to protect a grove of ancient, mysterious redwoods and a mile of the Lost Coast in Mendocino County. The League's Lost Coast campaign must raise $2 million by December 31, 2011, to protect the 957-acre property known as Shady Dell, is north of Fort Bragg and adjacent to Sinkyone Wilderness State Park and is part of the 50,000 acre Usal Forest. Save the Redwoods League aims to raise the funds by the end of the calendar year or else the opportunity to protect this property might be lost.
"This is an urgent situation in which the public will play a vital role," said Ruskin K. Hartley, executive director for Save the Redwoods League. "By purchasing the Shady Dell property, we will safeguard another mile of California's world-renown Lost Coast, protect a unique grove of gnarly ancient redwoods for all to experience and enjoy, and safeguard an important wild salmon stream. With less than 5 percent of the ancient redwood forest remaining, we must continue to work diligently to protect redwoods across their range."
Shady Dell's diverse ecosystem harbors a rich array of wildlife and an unusual ancient redwood grove in which the trees are shaped like short-stemmed candelabras. To protect the property permanently, the League will develop and implement a forest management plan, prioritize ways to improve coho salmon spawning habitat, remove invasive plants to help native plants thrive, and manage the forest to allow young forests to mature. The League also will work to improve public access and facilitate the rerouting of the coastal trail away from the county road. Save the Redwoods League will acquire, hold and manage this land for several years until it is able to transfer this property to California State Parks for inclusion in Sinkyone Wilderness State Park, or to another long-term steward.
Editors please, note: For high-resolution images please, contact Jennifer Benito at (415) 820-5814 or jbenito(at)SaveTheRedwoods(dot)org.
About Save the Redwoods League
Walk through a redwood forest—home of the tallest, largest, and some of the oldest living beings on Earth—and you can't help but feel an overwhelming sense of awe and peace among these magnificent giants. Since 1918, Save the Redwoods League has led the effort to protect the coast redwoods and giant sequoias for all to experience and enjoy. To date the League has completed the purchase of more than 189,000 acres of redwood forest and associated land. For more information, please visit SaveTheRedwoods.org, or to receive monthly email updates, sign up at SaveTheRedwoods.org.
###