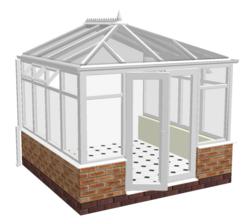 Birmingham, West Midlands (PRWEB) August 11, 2011
With the UK market for DIY conservatories expanding along with consumer needs to save money, more and more are choosing self build as a viable option and recruiting their own builder to lay the foundations or using a no fuss base system such as Durabase.
Unlike most other DIY conservatory suppliers, Conservatory Prices will provide a true online quotation service providing a range of drawings including a 3d preview of how the chosen conservatory will look when installed on the client's property.
Putting in the Effort Beforehand
Many other DIY conservatory suppliers simply aim to capture the clients details online under the guise of a free brochure or some other 'quick capture' method and then call the customer to close the sale before offering drawings, prices or any real effort.
Conservatory Prices with its partners will be offering a true online quotation service whereby after completing the comprehensive online form will receive a quotation by email which will include detailed drawings of the conservatory from various angles including builder's plans which will aid the consumer in obtaining prices from builders to assess the cost implications of the base.
Another great feature is the option to upload an image of the property in which the team will return the drawings with the 3d conservatory super-imposed onto the property to give the client a true feel for the look and style of the proposed DIY conservatory, once completed.
Zero Pressure
At Conservatory Prices, zero pressure means exactly that. No downward spiralling prices to reel consumers in - just the best price, first time, every time. This means that clients can rest assured that they are getting a great deal with some of the lowest prices around for high quality, easy to fit self build conservatories.
The Conservatory Prices approach to consumers is what has earned the trust of over 10,000 consumers who have used the service to compare prices for conservatories and now after a lot of planning and trials moving into the DIY conservatory industry to apply the same mentality and quality of service.
Friendly, Skilled Advice on Tap
At Conservatory Prices, fully skilled telephone support staff are on hand to answer any queries clients may have, unlike many other DIY conservatory suppliers who offer only online forms of communication, the team are happy to chat to clients in a friendly yet professional manner to discuss requirements, prices and even make changes to proposed designs.
On the website, you will find installation videos to help you along the way if help is needed and full telephone support is also provided through the manufacturers dedicated support line where clients can call to get advice on fitting or products.
Assurance
All DIY conservatories from K2 come complete with a ten year manufacturers warranty backed by a company with over 10 years under its belt and supplying conservatory products to over 300,000 consumers across the UK.
All self build conservatories manufactured by K2 meet BSI standards (BS EN ISO 14001:2004, ISO 9001:2008) and are BBA (British Board of Agrément) accredited (01/3795).
In order to achieve this BBA status (which is widely recognised throughout the construction industry as the ultimate quality benchmark), K2 products had to undergo rigorous independent assessments by a government backed body.
Conservatory Prices currently partners with Project Conservatory Limited, a supplier of K2 conservatory products throughout the UK. For more information visit the website at http://www.conservatoriesprices.co.uk.
###