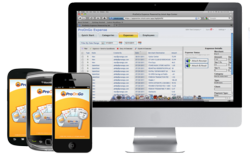 ProOnGo Expense rises above the rest as the clear winner for small businesses that want expense reports to seamlessly integrate with QuickBooks and QuickBooks Online.
Chicago, IL (PRWEB) August 10, 2011
ProOnGo LLC, maker of the award-winning mobile expense tracker for small businesses, today launched the intuitive ProOnGo Expense mobile application on Intuit App Center, a destination for small businesses to find and use apps that work with QuickBooks. The ProOnGo app on Intuit App Center makes expense tracking, approval and reimbursement a breeze for QuickBooks® users. The solution empowers employees using ProOnGo Expense from their Android, BlackBerry or iPhone to submit expenses on the go. When managers approve the expenses in the ProOnGo app from Intuit App Center, the expenses automatically appear in QuickBooks Pro, Premier and Enterprise editions or QuickBooks Online for employee reimbursement.
The solution, available immediately, will be featured as a Finalist in the Intuit App Showcase on August 11, 2011, in San Francisco, Calif. Benefits include:

Anytime, Anywhere Expense Reporting: expenses filed or edited in the mobile apps are synchronized with the web app on Intuit App Center, and expense approvals in the web app are synchronized with the mobile apps.
Seamless Integration with QuickBooks: the solution retrieves information from QuickBooks Employee Center, Customer Center, and Chart of Accounts to avoid complex setup steps. Your list of approved expense submitters, valid expense categories, and clients that can be billed for expenses, are all automatically pre-filled with information retrieved from QuickBooks.
Easy Migration from Legacy Systems: companies that previously used spreadsheet-based forms for expense reporting are eligible for a complementary transition package which includes the integration of their legacy format, as a report type, to ease the transition to the workflow-based solution available on Intuit App Center.
Intuit ProAdvisors are already recommending the new solution to their clients, says Kevin Harris, CEO of QuickSolvers, Inc.: "Mobile app stores are filled with expense reporting apps for small businesses, but short on solutions that integrate flawlessly with accounting software. ProOnGo Expense rises above the rest as the clear winner for small businesses that want expense reports to seamlessly integrate with QuickBooks and QuickBooks Online."
Others are excited about the ability to tag expenses with receipt images and permanently record the necessary expense documentation for reimbursed expenses. "At LedgerLeaf Accounting, we find that most small businesses struggle to find enough time to keep their business financials and documentation up-to-date. ProOnGo addresses this issue by seamlessly integrating expense documentation for all employees. Receipts captured on employees' mobile phones flow directly into ProOnGo Expense on App Center", says Lori Bush of LedgerLeaf Accounting.
To get started with ProOnGo Expense on Intuit App Center, visit http://appcenter.intuit.com/proongo-expense, or http://www.proongo.com, for a free trial.
About ProOnGo
ProOnGo makes expense reporting as easy as a snap. With ProOnGo Expense, smartphone-toting road warriors submit their expense reports simply by taking pictures of their receipts with their smartphone, recording reimbursable mileage automatically using GPS, and tracking billable time by importing calendar entries and call logs. Expense details can be viewed and edited by using the ProOnGo Expense mobile app, ProOnGo Expense on Intuit App Center, or the ProOnGo.com web portal. Report formats include Microsoft® Excel, QuickBooks Pro®, QuickBooks® Online Edition, and more. With receipt, time, and mileage tracking, ProOnGo Expense is the complete expense tracking solution for today's busy mobile professional.
Intuit, the Intuit logo, and QuickBooks, among others, are registered trademarks and/or registered service marks of Intuit Inc. in the United States and other countries. Other parties' trademarks or service marks are the property of their respective owners and should be treated as such.
# # #