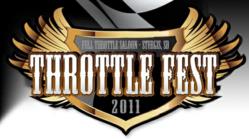 "Imagine trying to simultaneously keep an eye on 30,000 visitors and 100 bartenders. With IQinVision's Alliance HD megapixel cameras we can digitally pan, tilt, and zoom in so close that we can count each bill placed in the cash register."
San Juan Capistrano, CA (PRWEB) August 10, 2011
IQinVision (http://www.iqeye.com), market leader in high-performance HD megapixel IP cameras, today announced that for second year in a row, the Full Throttle Saloon in Sturgis, SD is relying on IQinVision HD Megapixel technology to safeguard millions in assets and improve crowd control.
With over 30,000 visitors daily, Michael Ballard's Full Throttle Saloon is once again the epicenter of this year's Sturgis Motorcycle Rally. The task of managing the Saloon with over 300 on-site staff, millions of dollars in cash, parking and property, as well as providing critical information to law enforcement becomes increasingly difficult as the 71-year old Sturgis Rally continues to grow in popularity.
This daunting task is made easier with the help of specialized HD megapixel surveillance cameras supplied by IQinVision. Security and surveillance expert Jeff Haase, owner of Spearfish, South Dakota-based Clearwater Security and Investigations, relies on IQinVision megapixel cameras for high definition overviews of staff and customer traffic patterns, cash theft mitigation, and property security. "With the IQeye cameras, frequently we're able to slice through the massive crowds, better than floor security staff, to isolate problems and track cash as it moves from bar locations to the onsite bank," noted Hasse.
Haase and his team of surveillance experts have an arsenal of tools more powerful than some Las Vegas Casinos at their fingertips. With IQinVision cameras, Haase can thoroughly monitor the large crowds, identify threats, and isolate them by deploying ground security forces quickly and accurately.
For the 2011 Rally, the Full Throttle Saloon has expanded their state-of-the-art surveillance system by adding new IQeye Sentinel 5 megapixel day/night cameras for extended range and better support in low light situations. The Sentinel series megapixel camera is designed to cover more ground, provide more detail, and better serve the security and surveillance staff during nighttime operations.
Managing the network of cameras would be impossible without the right software. Milestone software is the solution that makes it all possible. "Milestone software connects all of our surveillance cameras together, allowing us to choose what camera view we want to zoom in on," explained Haase.
Hasse continued, "Imagine trying to simultaneously keep an eye on 30,000 visitors and 100 bartenders. You've got to examine each transaction, follow the cash, and make sure that Mr. Ballard's money goes where it's supposed to. With IQinVision's Alliance Series HD megapixel indoor and outdoor cameras we're able to digitally pan, tilt, and zoom in so close that we can literally count each bill that is placed in the cash register."
Obviously, Haase knows that mitigating theft is his number one priority. Over the past eight years, technology has vastly improved, making his job much easier. This year, Haase has added additional IQeye cameras to sensitive areas, like the Full Throttle Saloon Bank, which will allow him and his team to better monitor the cash as it makes its way through thousands of bar patrons, to the teller, and into the vault.
"The new cameras we've deployed this year in the bank will allow us to count each bill, track what the teller is entering into the bank's computer system, and observe the teller place each cash register's net deposit in the vault," said Haase. Over 10 terabytes of crystal clear images are stored, and can be recalled as necessary for law enforcement, internal documentation, or insurance purposes.
And the owner agrees on the effectiveness of video surveillance, "Four out of five businesses go out of business because they get stolen from, and bars are close to the top of the list," noted Ballard. "This system, this level of technology, is worth the investment—it has paid for itself each year."
Although a secondary priority, managing the massive crowds at the Full Throttle Saloon is another one of Haase's objectives. "With IQinVision's superior camera images, we're able to detect problems, a lot of times before they even start." This critical component allows ground security staff to respond faster, and make necessary interventions before problems erupt, leading to a safer, more enjoyable rally experience for all.
"But at the end of the day, it's all about tracking the cash," reminded Haase. With IQinVision HD megapixel technology he's able to do so and that makes Full Throttle owner Michael Ballard rest easier and enjoy the party.
About IQinVision
Since 1998, IQinVision has been designing the quality engineered IQeye line of HD megapixel cameras. IQinVision is a world leader in IP network camera products, renowned for image quality, stability, and reliability in the most demanding network environments. IQinVision was first to market with megapixel IP cameras, HD cameras with on-camera recording, intelligent network cameras, and a long list of other industry firsts. IQeye cameras are integrated with all leading Network Video Recorders (NVR) and can also be used for fail-over recording, as stand-alone event recorders, and as distributed processing platforms for video analytics. The company's products are widely deployed in government, military, city center, property management, education, retail, casino, transportation, and multiple other vertical applications. IQinVision is a privately-held corporation headquartered in San Juan Capistrano, California with a regional office in Amsterdam, Netherlands. For more information: http://www.iqeye.com
For Media Queries:
Bruce J. Doneff
Public Relations
201.966.6583
bruce.doneff(at)iqeye(dot)com
For IQinVision:
Wendi Burke
Manager, Global Marketing Communications
949.369.8100
wendi.burke(at)iqeye(dot)com
###