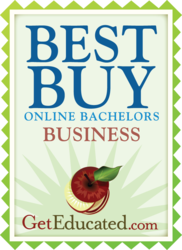 "The Get Educated online college directory brings transparency to the process of finding the best online colleges by allowing students to rank online degrees by cost and student reviews before they enroll." -Vicky Phillips, founder of GetEducated.com
Essext Junction, VT (PRWEB) August 11, 2011
GetEducated.com, http://www.geteducated.com, an online education research group that publishes online university rankings, has released their list of the Top Online Colleges for an affordable, low-cost online business degree.
The Get Educated online university rankings are based on a survey of higher education costs at 67 regionally accredited universities that offer 136 online degrees in business with an administration major at the bachelor program level.
The #1 college ranking went to East Carolina University distance learning (NC) for their affordable online bachelor of science in business administration. Online students from North Carolina will pay only about $13,560 for this distance degree.
The University of Wyoming (WY) online business school ranked #2 in low cost overall and #1 for students nationwide for their online bachelor degrees in business administration with multiple career majors ranging from human resources to hospitality management.
Students nationwide will pay the same low cost – just over $16,000 -- for a degree in business administration from this Wyoming state college online regardless of their state of residency.
By comparison, the average higher education costs for a business administration degree online came in at $46,75.
At $116,600 the most expensive online degree in business came from Drexel University Online (PA) for their bachelor of science in business administration ($116,600).
"Online education allows non-traditional students to select from the nation's top universities in terms of brand reputation and affordability," says Vicky Phillips, Founder of GetEducated.com. "The Get Educated online college directory brings transparency to the process of finding the best online colleges by allowing students to rank online degrees by cost and student reviews before they enroll."
Consumers can compare more than 300 bachelor in business degrees online by cost, reputation, and real online student reviews by searching the Get Educated directory of accredited online universities.
About GetEducated.com::
Founded in 1989, GetEducated.com is a consumer group that publishes objective rankings and reviews of the best online colleges and top online universities along the dimensions of affordability, cost, reputation, and employer acceptance.
Contact:
Vicky Phillips, Founder
GetEducated.com, Essex Junction, VT 05452.
802-899-4866.
Website: http://www.geteducated.com
###