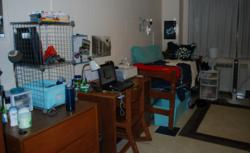 With my own three kids all having gone through their freshman year, I know the stresses that come with figuring out what is and isn't important to buy
Livingston, NJ (PRWEB) August 12, 2011
Living Rich With Coupons (Livingrichwithcoupons.com), one of the leading frugal couponing blogs in the country, has released a comprehensive http://www.livingrichwithcoupons.com/2011/07/college-dorm-checklist-what-you-really-need-to-bring.html. With Back to School shopping in full swing, this list is a valuable resource for those families unsure of what to buy while preparing to send their freshman student off to their new school.
"So many readers ask me what the essentials are for a freshman in college who is setting up a dorm room for the first time," says Cindy Livesey, founder of http://www.livingrichwithcoupons.com. "With my own three kids all having gone through their freshman year, I know the stresses that come with figuring out what is and isn't important to buy."
Cindy created a comprehensive list of what every student needs to have as a first year at college while not wasting money on unnecessary items. The list includes everything from electronics, storage, organization, lighting and much more. This is a tool that every college bound student should use.
Cindy Livesey is the force behind Living Rich With Coupons. Her main goal is to provide her readers with all the resources they need to shop smart so they can cut their grocery bill and be able to afford life's luxuries for a lot less.
###