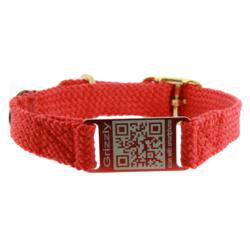 These collars truly embody the power of today's technology...
Fargo, ND (PRWEB) August 12, 2011
dogIDs, a leading provider of personalized dog collars, custom dog tags, dog beds and dog leashes, has added QR Code ScruffTag™ collars to its extensive selection of personalized dog ID tags.
dogIDs has partnered with PetHub to make these QR code collars that take advantage of today's smartphone technology. The ID collars include a unique web address and engraved QR code, the latter which can be scanned with any smartphone, including iPhone, Android, BlackBerry, Microsoft Windows Mobile and more. The ScruffTag itself sits on the scruff or back of a dog's neck, making it easy to scan the QR code without having to reach under a dog's jowls. The collar can also include the pet's name and the owner's phone number.
The QR code and web address point to a free, secure, membership-for-life profile page on PetHub.com where owner contact information can be listed as well as emergency contacts, medication information, dietary needs and more. Because owners have unlimited access to the free profile page, important information (such as a change in medical information) can be updated quickly – and at any time – without changing the pet's ID tag.
"These collars truly embody the power of today's technology. Not only do the collars let owners connect their dog to network that is geared to protect their dog, but they also – with their QR and smartphone capabilities – bring ID tags to a whole new level," says Clint Howitz, pack leader and president of dogIDs. "We're thrilled to partner with PetHub to bring ScruffTag collars to our customers."
The profile page on PetHub.com enables owners to build their pet's profile by storing a myriad of information including medical history and current medications, training facts, care instructions, primary and alternative contacts, biography data, photos and more in a safe and private place. The information can be shared securely with care providers, vets, family and friends with the click of a button.
Similar to a social network, users can log into PetHub.com at any time from anywhere to check on their pets. For example, a care provider can post updates about a pet's care to the pet's PetHub.com site; owners can visit the site to "check in" with their pets while on vacation, business trips and so on. Rather than write out care instructions, owners can simply direct care providers to the pet's PetHub.com site.
The QR code on the ScruffTag directly links to whatever information owners choose to display from the pet's PetHub.com site. If a pet is lost, anyone can use a smartpone to scan the ID tag on the ScruffTag collar, enabling the pet's important emergency information to be displayed on the smartphone. Alternatively, the web address on the ScruffTag leads to the same information.
The handmade dog collars – made in the USA of colorfast, double braid webbing material – are available in seven colors. Strong yet comfortable, the collars feature a corrosion-resistant brass buckle and D-ring as well as an anodized aluminum ID name plate for the QR code. The engraving on the name plate is guaranteed for life.
About dogIDs
Since 1999, dogIDs has been producing personalized dog collars, custom dog tags and unique pet ID tags. In addition to its wide selection of handmade designer dog tags, the company also offers other distinctive dog accessories, including custom leather dog collars, embroidered dog collars, designer dog collars, dog leashes, dog harnesses, dog apparel, dog beds, dog safety and health products, electronic bark collars, electronic dog training collars and many more high-quality accessories for dogs. Visit http://www.dogIDs.com for more information.
# # #