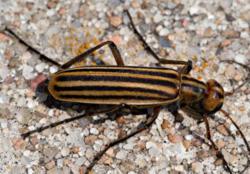 They've been known to cause...death to grazing animals like horses...
Roanoke, VA (PRWEB) August 15, 2011
Sometimes you never know what you'll find when visiting the unseen world within your microscope, as George Sabo, one of our customers, recently discovered. While out and about on his property in Arizona, he came across a colorful little beetle which led to this story, relayed by email.
"When I ran down a hill and captured this beetle, he sprayed orange juice on my fingers - luckily I had bottled water along and washed it right off - otherwise I would have had a problem." As George almost discovered by first-hand experience, these beetles are also known as blister beetles, for the blisters their secretions can raise on living tissue.
Blisters can be painful, but that's not all our colorful little friend can produce. According to Margarethe Brummermann, an Arizona biologist, blister beetles are poisonous. "Some species such as the Striped Blister Beetle can cause health problems in livestock. They've been known to cause digestive damage, internal bleeding and, in very rare cases, even death to grazing animals like horses who feed on hay containing the beetles."
Besides the colorful and potent beetles, George hits on a common theme among budding microscopists, the enchantment of learning something new. He writes, "I found a fascinating book on the diversity of life on our earth, and it made me look at things in a new way, and this led me to buy the Omano stereo zoom microscope which has literally opened up a new world to me."
"The clear, three dimensional images this instrument can produce are truly amazing! I am just getting started collecting specimens from both the desert environment where we winter and our summer home area in Northwest Washington, and I know it will be a real adventure seeing these with my new microscope!"
Thanks go out to people like George, who's desire to learn drives the discovery of new information about our environment which benefits everyone.
Microscope.com is an online retailer of microscopes for everyday use by industry, education institutions, businesses and microscopy enthusiasts worldwide. Located in southwestern Virginia, they are the proud recipient of Top Ten Reviews "Gold Award" for 2009 & 2010.
###