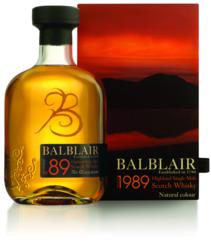 San Diego, CA (PRWEB) August 13, 2011
Balblair Highland Single Malt Scotch today announced a partnership with the esteemed Art of Photography Show running August 13 - October 23, 2011 at the Lyceum Theatre Gallery in San Diego.
Just as timing is important in photography, so it is with producing a vintage-only Scotch. Balblair holds the distinction of being the only Scotch whisky in the world to be exclusively released in vintages. Only the best whiskies from a particular year and those which have reached peak maturation are selected by the Distillery Manager for release, thus creating the brand's tagline: "Vintages Timed to Perfection."
"The connection to photography is perfect for the brand," said Pat Graney, president of U.S. Operations for International Beverage. "A photograph captures a moment in time and all of the associations that go with it, and Balblair is no different."
The Art of Photography Show is one of the largest juried photographic competitions in the world. Visitors to the Opening Reception on August 13th can enjoy drams of Balblair while perusing the selections from this year's judge, Anne Lyden, Associate Curator of Photography at the J. Paul Getty Museum. More than 15,000 entries were submitted and $10,000 in awards will go to the top 15 selections.
"We are very pleased to count Balblair among our supporters," said Steven Churchill, producer of the Art of Photography Show. "The brand's connection to photography is very tangible and its presence at the opening reception will greatly enhance attendees' experience."
Currently the vintages available for purchase in United States are Balblair 1989 and Balblair 2000. Balblair Distillery is situated near the village of Edderton in Rosshire. It is one of the oldest distilleries still in existence, dating back to 1790. The whisky is part of the Inver House Distillers portfolio owned by International Beverage. For more information: http://www.balblair.com.
The Art of Photography Show is an established and critical force in the world of contemporary photography. Now in its 7th year, this presentation of world class photography is truly exquisite. A total of 15,444 entries were submitted by artists from 72 countries around the world for this juried competition. The judge for this exhibit is Anne Lyden, Associate Curator of Photography at the J. Paul Getty Museum in Los Angeles. Ms. Lyden selected 109 compelling works for exhibition. For more information: http://www.artofphotographyshow.com
###