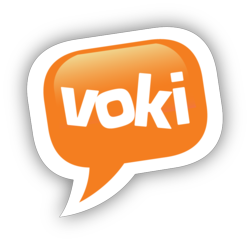 Our formula for affordability was simple: charge less than the price of one small macchiato per month, and ensure that the value far outweighs the cost. We believe that Voki Classroom meets both requirements.
New York, NY (PRWEB) August 16, 2011
Launched in 2006 as a free application, Voki enables teachers and students to create, configure and share customizable online avatars for education. Users can select one of many types of avatars, customizing every aspect, from size and colors, to outfits and even jewelry. Voki users can then create an audio message, based on text-to-speech (over 25 languages and 150 voices), a microphone recording, uploading an mp3 file, or even calling a number to record by phone. Users can select an image or animated background, or upload their own. Finally, Voki users may share their creation anywhere on the Web - posting it on 3rd party sites and blogs, sharing a link, or embedding it directly onto their websites.
Voki quickly became popular among educators, who enjoy the interactivity of the service, and students, who love new technology and creating speaking characters. Today, Voki has almost 1 million users worldwide, with thousands of teachers and students registering each week. Voki is used across a variety of topics and grade levels, and has some universal benefits:
-> Voki helps introduce fun and creativity to the classroom through technology.
-> Voki allows shy students to more easily express themselves through speech.
-> Voki serves as an effective language acquisition tool.
-> Voki increases engagement and interest levels among students.
-> As a result, Voki helps improve message comprehension in the classroom.
One drawback with Voki, according to many teachers, has been the inability for young students to register their own accounts due to COPPA. As a result, young students have been limited in their access to Voki.
"While teachers and students love using Voki, we understood that there was a large usage gap. Voki appeals to many age groups, but especially to young learners - which is precisely the age group that had limited access, based on the age restrictions. We needed an easy way to address this issue" says Jesse Kedy (Marketing Manager for Voki).
Based on extensive feedback from educators and Voki advocates, the Voki team has developed Voki Classroom, an online platform that allows teachers to manage students' Voki experience. Some of the main features of Voki Classroom include:
-> Automatic Student Logins. After a teacher imports or adds a list of students, Voki Classroom automatically generates a login and a password for each student. This overcomes the need for students to register with Voki. This also eliminates the need for teachers to spend time showing students how to register.
-> Each teacher can add up to 10 classes (with multiple lessons per class) and 200 students.
-> Classes and Lessons. Teachers can add all of their classes and assign students to their respective classes and assignments. When students log in, they will see their assignments and can create their speaking avatars in class or at home. Each lesson also includes a Web page, which displays all student characters for that lesson. Lesson pages can be customized by the teacher and can include password protection.
-> Educators using Voki Classroom also receive unlimited online support, something that is not available with the free Voki service.
Voki Classroom is accessible from Voki.com. Additionally, Voki has launched a new Learn section (http://www.voki.com/learn.php), which will include resources for teachers and students interested in using speaking avatars for education. Finally, Voki will maintain free access to its Lesson Plan Database (http://www.voki.com/lesson_plans.php), which includes a growing list of lessons using Voki avatars across many topics and grade levels.
Voki Classroom is a paid service, which might be an issue for some teachers. Kedy says, "We are acutely aware of the lack of school budgets for most things tech-related. Taking this into account, we have worked to lower the cost of the service to a very affordable amount. Our formula for affordability is simple: charge less than the price of one small macchiato per month, and ensure that the value far outweighs the cost. We believe that Voki Classroom meets both requirements." Voki Classroom also includes discounts for longer subscriptions, and for multiple accounts. For pricing details, see http://www.voki.com/products.php.
No features have been removed or reduced in any way from the free version of Voki. "Teachers and students can continue to access and use Voki and all of its features, as they have in the past. Voki Classroom is our way of adding more value to the Voki experience, while making it easier to manage for educators."
For more information on Voki Classroom, please visit the Official Voki Blog (http://blog.voki.com/) which includes a 3-part announcement of Voki Classroom. Alternatively, you may visit http://www.voki.com for complete details.
For further information, contact The Voki Team at feedback(at)voki(dot)com.
###