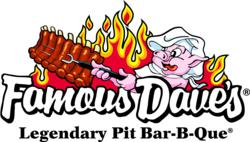 Dave's Day at Famous Dave's of America is Sunday, August 14, 2011 when all BBQ lovin' Daves, Davids and Davys can eat free! Half price if it is your middle name.
Minneapolis, MN (PRWEB) August 12, 2011
On August 14, Famous Dave's Bar-B-Que Restaurants are offering anyone showing a valid ID with the first name of Dave, David or Davy a free entrée (maximum value of $15) at participating locations nationwide. Anyone showing a valid ID with the middle name of Dave, David or Davy (sorry, last names don't count) can also join in and receive an entrée for half price (maximum value of $7.50). "Dave's Day" is in honor of the Founder, "Famous Dave" Anderson, and this one-day-only event has been brought back due to its success in spreading the story of "Famous Dave" and generating enthusiasm among the local communities and the restaurant teams.
David is the 6th most popular boy's name in the U.S., which means many people are named Dave or have a relative or friend named Dave, and can participate. "Our Dave's Day celebration has grown into a national event and the word has spread like wildfire on social media in anticipation for this event," said Aric Nissen, Vice President of Marketing at Famous Dave's of America, Inc. "Our restaurants observe some unusual behavior on this special day, such as babies named Dave showing up for free BBQ, guests who proclaim they are going to change their name to Dave, and multiple generations of 'Daves' using our celebration as a celebration for their families. After all, 'Famous Dave' Anderson built this company on his passion for people and the best BBQ ever. This event gives us an opportunity to show our guests what we do best – being Famous!"
For "famous" fans who aren't named Dave, Famous Dave's has some hog wild specials featured in their "Hog Days of Summer," which begins the day after Dave's Day on August 15 at participating locations. Guests who purchase an entrée will be able to add $1 ribs and 50¢ wings to their order during the four week promotion. "And nothing goes better with ribs and wings than specials on tap beer that are too good to advertise in most states," added Nissen.
About Famous Dave's
Famous Dave's of America, Inc. (NASDAQ: DAVE) was founded by 'Famous' Dave Anderson, whose passion for BBQ led him on a 25-year cross-country trek to find the best regional BBQ recipes in the country before opening the first Famous Dave's in Hayward, WI. As of today, the company owns and franchises 183 restaurants in 37 states, and is known for its on-premise real pit smokers where the BBQ is slow-smoked for up to 10 hours over smoldering hickory wood. Famous Dave's is proud to serve scratch-recipe cooking, and has won over 500 awards, including the People's Choice Award at the 2011 Great American Rib Cook-Off in Cleveland and the People's Choice Award at the 2011 National Capital Barbecue Battle in Washington, D.C., for the sixth year in a row. The extensive menu features award-winning barbequed and grilled meats, a large selection of salads, side items, burgers and sandwiches, and home-baked desserts. For more information, please visit http://www.famousdaves.com.
Statements in this press release that are not strictly historical, including but not limited to statements regarding the timing of our restaurant openings and the timing or success of our expansion plans, are forward-looking statements within the meaning of the Private Securities Litigation Reform Act of 1995. These forward-looking statements involve known and unknown risks, which may cause the company's actual results to differ materially from expected results. Although Famous Dave's of America, Inc. believes the expectations reflected in any forward-looking statements are based on reasonable assumptions, it can give no assurance that its expectation will be attained. Factors that could cause actual results to differ materially from Famous Dave's expectation include financial performance, restaurant industry conditions, execution of restaurant development and construction programs, franchisee performance, changes in local or national economic conditions, availability of financing, governmental approvals and other risks detailed from time to time in the company's SEC reports.
# # #