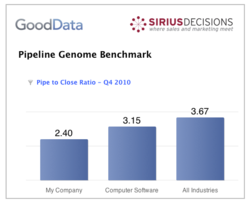 Sales leaders want to compare their pipeline to best-in-class companies.
San Francisco, CA (PRWEB) August 15, 2011
GoodData today announced that it is partnering with SiriusDecisions to collect sales pipeline data across potentially thousands of companies as part of the Pipeline Genome Project. The Project is an innovative effort to collect actual sales pipeline data across industries and companies to create a benchmark index based on real sales opportunity data.
Effective immediately, any company that uses Salesforce CRM to manage their sales opportunities can participate in the Pipeline Genome Project for free with just a few clicks. In addition, each participating company receives a free 30 day trial of GoodData's Sales Analytics app. Learn more about the Pipeline Genome Project here.
"Every sales executive wants sales pipeline benchmark data, but to date, it's been very difficult to gather. Crowdsourcing data collection, as we are doing with GoodData, can crack the code and enable us to give our clients richer and deeper benchmark data." -Jim Ninivaggi, Research Analyst at SiriusDecisions
"Once comapnies see their sales pipeline in a GoodData dashboard, the next question is always 'how does this compare with best-in-class sales organizations.' Now thanks to the Pipeline Genome Project, we'll be able to show it to them." - Sam Boonin, VP Products & Marketing, GoodData.
The Pipeline Genome Project was conceptualized to overcome the typical challenges of gathering industry data on sales effectiveness. Instead of relying solely on industry experts and self-reported sales data, the Project can now leverage GoodData's ability to capture historical sales pipeline data from thousands of companies with SiriusDecisions expertise in B2B sales and marketing effectiveness.
About GoodData
GoodData offers the world's most powerful Cloud BI Platform, providing our customers and partners with operational dashboards, advanced reporting and data warehousing at a fraction of the cost and complexity of other approaches. GoodData is trusted by companies like Enterasys Networks, Capgemini, and Software AG, and embedded into offerings from cloud innovators like Zendesk, Get Satisfaction and Pardot. GoodData is headquartered in San Francisco and located in the cloud at http://www.gooddata.com.
###