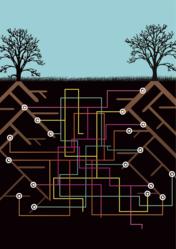 We have seen cases in which the host plant 'enslaves' the bacterial or fungal partner, and punishes bad behavior, but never the reverse..
Amsterdam, Netherlands (PRWEB) August 14, 2011
Dr. Toby Kiers and her colleagues are interested in how mutualisms – cooperative interactions among different species – evolve and persist. This newest work suggests that organisms, big and small, complex or simple, can tell a good deal from a bad deal.
The title of the article is: Reciprocal Rewards Stabilize Cooperation in the Mycorrhizal Symbiosis.
The vast majority of plants on earth enter into a symbiotic relationship with arbuscular mycorrhizal fungi, trading sugars for nutrients that the fungi collect from the soil. But some partners try to shirk their duties and cheat by hoarding resources.
Please click here to visit Dr. Kiers website.
Dr Toby Kiers (Department of Animal Ecology, Vrije Universiteit, Amsterdam) and colleagues investigated what happens if you experimentally force plant and fungal partners to cheat by changing their access to resources. Can plants and fungi assess what is on offer and exhibit a preference for partners offering a better deal?
She found that plants were capable of distinguishing the best fungal partner –even when mixed on a single root system - and gave them more sugars. Then Kiers turned the experiment around and investigated whether the fungi could barter. To her surprise, the fungus was also able to discriminate among hosts, and started to deliver more phosphorous to plant roots that provided more carbohydrates.
"We were astounded by the bargaining power of the fungi," said Kiers. "We have seen cases in which the host plant 'enslaves' the bacterial or fungal partner, and punishes bad behavior. Now we discovered the reverse: fungal partners denying plants nutrients if they failed to cooperate".
The research suggests that by both partners 'play the market', resulting in a stable equitable economic system that has persisted for some 470 million years.
Humans have yet to achieve a similarly 'just' economic system on a global scale.
Now the team will determine whether external influences, such as high nutrient enrichment found in agricultural systems, can derail this ancient cooperative symbiosis.
Please contact Dr. Kiers with any inquiries. Her lab website is located here: http://tobykiers.com
Publication Details:
Reciprocal Rewards Stabilize Cooperation in the Mycorrhizal Symbiosis
E.T. Kiers et.al.
Science 12 August 2011:
Vol. 333 no. 6044 pp. 880-882
Please click here for abstract: http://www.sciencemag.org/content/333/6044/880.abstract
###