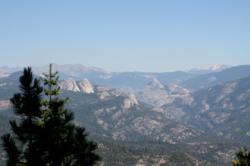 The Sierra Vista Scenic Byway is called by some a Hidden Yosemite, offering stunning views of granite peaks, wildflower-covered meadows and historic sites
Madera County, CA. (PRWEB) August 13, 2011
Yosemite National Park has been enjoying record attendance this summer thanks to a very wet winter fueling epic waterfalls. While the park is an amazing place, some people seeking a bit more seclusion are finding the Sierra Vista Scenic Byway a great addition to their trip.
The Sierra Vista Scenic Byway is a nearly 100 mile scenic drive through the Sierra National Forest. Described by many as a "hidden Yosemite", it offers stunning views of granite peaks, unique rock formations, blue waters, wildflower-filled meadows and historic sites.
Starting in either North Fork or Bass Lake, depending on which direction one chooses to travel, the drive ranges between 2,500 feet in elevation all the way up to over 7,000 feet. The byway has several points of interest designated by signage along the way, offering travelers a chance to get out of their vehicles and look around.
Stopping points include the Jesse Ross Cabin, a home built in the 1860's that still stands today. You can go inside the cabin and get a feel for the industrious nature of the pioneers who settled the area.
Another point of interest is Mile High Overlook, which gives a breathtaking panoramic view of the Sierra Nevada and Mammoth Pool more than 1000 feet below. You can see some of the highest peaks in all of California from this vantage point.
Globe Rock is another popular stop off. This massive, almost spherical boulder is perched upon a natural pedestal, created by eons of water freezing and thawing, creating unique erosion.
The Jones Store, located towards the end (or the beginning) of the byway carries numerous items for those looking to go out camping in the area, and also makes what some argue are the best hamburgers around. The store has been around for more than half a century, and is a family tradition for many customers spanning back multiple generations.
You can be out on the byway and experience true solitude. The peacefulness of the surroundings will help you connect with nature.
Be sure to start with a full tank of gas, there are no services along the byway, and cell service is limited as well.
To learn more about the Sierra Vista Scenic Byway, visit http://www.YosemiteThisYear.com.
Jarrod Lyman
Director of Media
Yosemite Sierra Visitors Bureau
(559) 683-4636
###