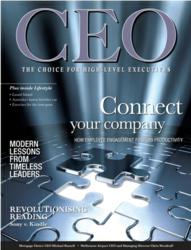 The CEO Magazine is of unrivalled quality and has a hugely influential readership of Australia's top businessmen and women
(PRWEB) August 16, 2011
Qantas have received a boost today with the news that one of the most influential business magazines in Australia, The CEO Magazine, will now be appearing in every Qantas Business Lounge across the country. Focused directly at high-level executives, The CEO Magazine is of unrivalled quality and has a hugely influential readership of Australia's top businessmen and women.
Qantas is widely regarded as the world's leading long distance airline and one of the strongest brands in Australia. Qantas Business Lounges are known for their exquisite decor and prestige and provide a top-quality service for high-level executives travelling throughout Australia as well as internationally. The partnership with publisher Bean Media Group for distribution of The CEO Magazine will further enhance Qantas' strong reputation as passengers in business lounges can now read the popular business magazine.
Bean Media Group, publishers of The CEO Magazine, were happy to enter into the partnership when Qantas agreed to showcase the magazines throughout Qantas Business Lounges around Australia. The publication continues to attract praise for its quality and content, which is a reason why Qantas have decided to include the magazine and partner with Bean Media Group.
Chris Dutton, Managing Director at Bean Media Group, stated "We always strive to take our business to the next level. We know that our business magazines are read well and look top quality, but it is rewarding to know that such a prestigious company such as Qantas agree and we look forward to the feedback from Qantas travellers. The CEO Magazine seems an ideal fit for passengers using Qantas' business lounges and through this agreement we're happy to offer this magazine to all Qantas Business, Platinum and oneworld Emerald guests."
The CEO Magazine is a bi-monthly title that provides its readers with a wealth of articles facing our country's top business leaders today. The magazine publishes exclusive interviews with Australia's leading CEOs and top-level management professionals and previous interviews include Webjet Founder David Clarke, Mortgage Choice CEO Michael Russell and PFD Food Services Executive Chairman Rick Smith. The publication also delivers an impressive lifestyle section of everything from sport and luxury cars to gadgets, dining out and travel.
The next issue of The CEO Magazine will be released October 2011 and will be seen throughout Qantas Business Lounges nationwide. To subscribe to The CEO Magazine or partner with this leading publication visit theceomagazine.com.au or call Bean Media Group on (02) 9939 7899.
###